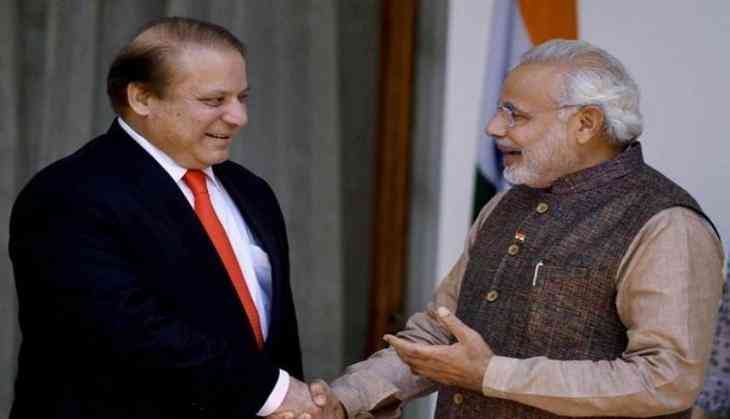 The Samajwadi Party on 9 June urged Prime Minister Narendra Modi to maintain a distance from his Pakistani counterpart Nawaz Sharif. It said India should act strictly with Pakistan as sometimes being too good can backfire.
Talking to ANI, Samajwadi Party leader Naresh Agrawal said India acting strictly with Pakistan might make it take a stand against terrorism.
"I think we should maintain some kind of distance with Pakistan. Be it any kind of meeting, India should act strictly with Pakistan may be only then Pakistan might take a stand against terrorism. Sometimes, being too good backfires so it's better to keep distance. I think Prime Minister Narendra Modi should in fact ignore Nawaz Sharif," he said.
However, denying to make any political comment, Congress Party leader Abhishek Manu Singhvi said it is unnecessary to criticize and comment on everything and anything.
"I don't think the political party is to comment on anything and everything. I don't think there is anything wrong to know about a person's health. It is not necessary to comment on everything. The political party is not trying to politicize this and it is unnecessary to criticize," he added.
Prime Minister Modi, who held bilateral talks with Kazakhstan President Nursultan Nazarbayev after reaching Astana on 8 June, happened to meet Pakistan Prime Minister Sharif in the Leaders' Lounge at the Astana Opera before the start of the Shanghai Cooperation Organisation (SCO) concert.
They reportedly exchanged greetings. Prime Minister Modi enquired about Sharif's health and also asked about his mother and family.
Prime Minister Modi is in the Kazakh capital to attend the two-day summit of SCO, which is a consortium focussing on security and trade.
India and Pakistan, which so far have had an observer status till now, will be formally inducted in the six-nation bloc that includes China, Kazakhstan, Kyrgyzstan, Russia, Tajikistan, and Uzbekistan.
Prime Minister Modi has held a bilateral meeting with Chinese President Xi Jinping and is now meeting Uzbek President Shavkat Mirziyoyev.
The chance meeting of Prime Minister Modi and PM Sharif comes amidst a highly-strained atmosphere between the two neighbouring nations following the death sentence awarded to former Indian naval officer Kulbhushan Jadhav.
India moved the ICJ against the death penalty awarded to Jadhav by a Pakistan military court on 8 May for espionage.
Pakistan claims its security forces arrested Jadhav from its restive Balochistan province on March 3 last year after he reportedly entered from Iran. However, India maintains he was kidnapped from Iran where he had business interests after retiring from the Indian Navy.
During the last trial on 18 May, the ICJ had restrained Pakistan from executing Jadhav.
-ANI