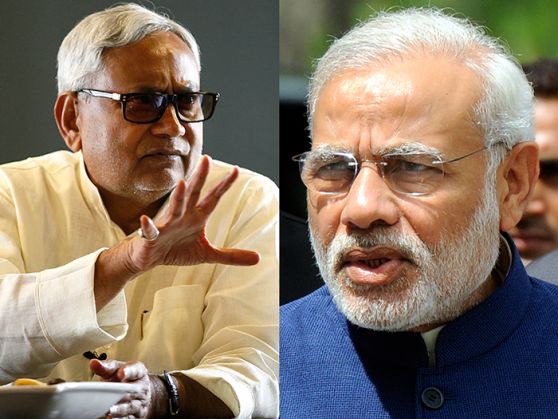 Less than a week to go before Bihar elections, a pre-poll survey by Lokniti-CSDS published by The Indian Express has revealed that the BJP led NDA has an advantage over the grand alliance of JDU-Congress-RJD.
The survey gauges the mood of the electorate in the last week of September.
Here are the major findings of the Lokniti-CSDS opinion polls:
The BJP led alliance surged ahead of the grand alliance by a margin of at least four per cent. BJP got 42 per cent of the votes while the grand alliance had to do with 36 per cent of the votes.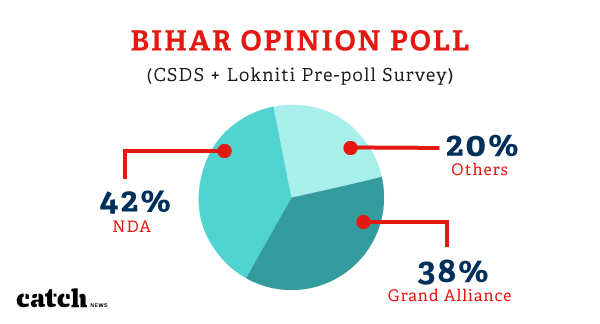 The third front led by Mulayam Singh Yadav's Samajwadi Party and Pappu Yadav seems to have negligible impact.

Even Asaduddin Owaisi's entry into the poll scene doesn't really change the equations.
Why BJP has an advantage?
Prime Minister Narendra Modi continues to remain a popular factor. His focus on development and the fact that BJP is governing at the Centre gives enough reason to the electorate to rally behind the BJP. Particularly, the urban electorate is upbeat about Modi's development agenda.
Also, the NDA alliance has a much more balanced spread in terms of caste representation. Both LJP's Ram Vilas Paswan and HAM's Jitan Manjhi bring with them a faithful constituency, drawing SC support.

Almost half of the lower OBCs support the NDA.

Plus, polarisation of the upper caste votes gives BJP an edge.
Why Grand Alliance is at a disadvantage?
Nitish Kumar continues to be a popular CM. But his politics has disappointed people.
While the Grand alliance leads by two per cent in rural areas, the NDA is ahead by 20 percentage points.
Lalu has proven to be a liability for the alliance. He brings nothing to the table. BJP has made "jungle raj" a major issue to target the grand alliance.

As far as the consolidation of Muslim votes is concerned, the alliance manages only 52 per cent of the votes, while 39 per cent say they wouldn't vote of either camps.
Nitish Kumar vs Narendra Modi: Who is more popular?
One of the most interesting findings of the survey is that Nitish Kumar continues to be a popular CM. Nitish Kumar enjoys a net satisfaction rating of +63 even after 10 years of being at the helm, while Modi comes second on the popularity charts with +45 points.