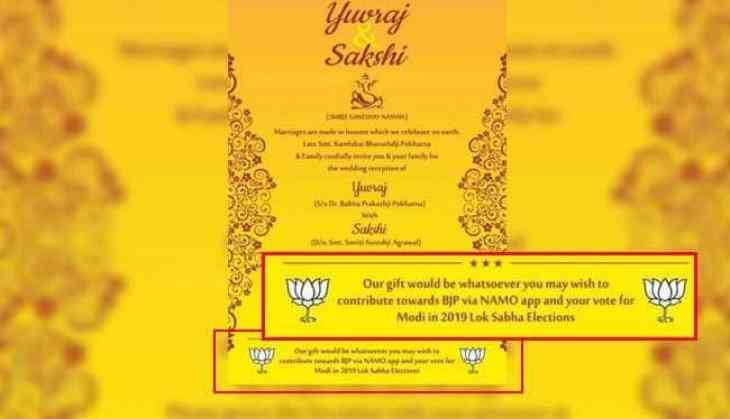 In this era of digital India, people are becoming more creative and innovative. However, this digital India campaign was kick-started by Prime Minister Narendra Modi-led government. Well, the 2019 Lok Sabha election is just around the corner and the party has buckled up to make sure their win and come back in power in centre. But can you think of seeking votes for BJP as a wedding gift?
Strange but that true, a couple in Gujarat, all set to tie the knot has the game up with wedding card similar like others, with bride and bridegroom's name, a symbol of Lord Ganesha. What is unique in the card's footer side is a Surat couple's wedding gift demand.
In the wedding card, the couple says the only gift they expect for the wedding is their guests' vote for the BJP in the upcoming elections. They have also mentioned a monetary contribution for the saffron cause on the party app.
Wait, it doesn't end here, When you turn back the wedding card will find a detailed analysis of the Rafale deal, headlined "Keep calm and trust NAMO" with 2 images of the fighter jets.
The text that follows starts with the line "Even a fool will not compare prices of a simple flyaway aircraft with a weaponised jet". This is the second time PM Modi has featured in a couple's wedding plans. Earlier this year, Dhaval and Jaya -- also from Surat -- sought a similar gift in their card.
Also read: Drishyam from reel to real: 5 men watched Ajay Devgn starrer film before killing a woman; buried dog to mislead probe