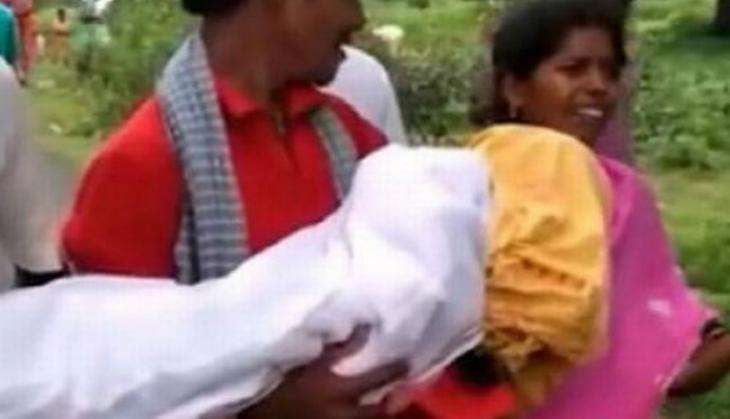 After images of a man carrying his wife's body on his shoulders and a video from Sora town in Odisha's Balasore district showing a sweeper trying to break the bones of a dead body to fit it into a bundle that can be carried, another horror has come to light. A man in Odisha's Malkangiri district had to walk 6 km carrying his seven-year-old daughter's body as the ambulance transporting them allegedly left them midway on 3 September.
The ambulance driver allegedly asked the girl's parents to disembark after he realised that the girl had died on the way to Malkangiri district hospital.
Seven-year-old Barsha Khemudu had been referred to Malkangiri district hospital from Mithali hospital in the district after her condition had deteriorated.
Also Read: Odisha: Tribal man who carried wife's dead body on foot says he never really asked for help
"The driver asked us to get down from the ambulance as soon as he came to know about the girl's death on the way," Dinabandhu Khemudu, the girl's father, said.
The incident came to light when locals inquired saw Khemudu and his wife walking, carrying the body of their daughter. The villagers then contacted the local Block Development Officer or BDO and the medical authorities to get another vehicle to carry the body to their village.
Also Read: Another Odisha horror: Hospital workers break woman's body at hip to carry it in a bundle
Meanwhile, Malkangiri district collector K Sudarshan Chakravarthy has asked the Chief District Medical Officer or CDMO Uday Shankar Mishra to probe the matter. The CDMO has filed an FIR at the Malkangiri police station against the driver, a pharmacist and an attendant who were in the ambulance.
"It was totally illegal and criminal negligence on the part of the driver. Stringent action will be taken against persons responsible for the incident," Chakravarthy told reporters, adding the district administration has provided immediate financial assistance to the girl's parents.
When contacted, Mishra said the act was "inhuman".
"After coming to know the incident, I immediately sent another vehicle which dropped the girl's family at their village," he said.
Dana Majhi had to walk about 10 km from Bhawanipatna in Kalahandi district along with his teenage daughter on 24 August carrying his wife's body on his shoulders after allegedly being denied a hearse by Kalahandi district hospital.
Two days after Majhi's image shook the nation and spoke loud about the health facilities in Odisha, a man was seen in a video breaking the hip bone of the dead body, before compressing it into a bundle, wrapping it up in cloth and plastic and tying it up with a bamboo stick and then carrying it. The deceased has been identified as Salami Barik, a 76-year old widow who was run over by a train on 24 August.
--inputs from PTI