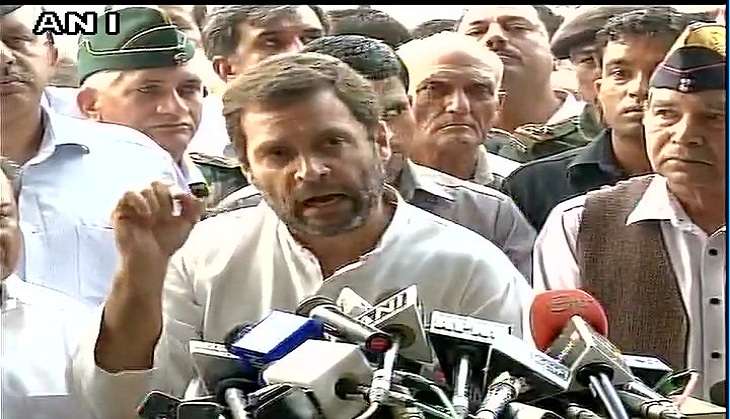 Now, Rahul Gandhi joins the queue of Indians waiting outside banks (Photo: ANI)
A day after Congress vice president Rahul Gandhi stood in a queue to exchange currency notes, party leader Kapil Sibal criticised Prime Minister Narendra Modi for not being in the country after he announced the demonetisation scheme. "In such a situation when the prime minister should be in India, he has gone to Japan," Sibal said.
The former Union Minister of Law and Justice criticised the government's announcement of putting a ceiling of Rs 4,000 on withdrawal and said, "It is not government's money or Modiji's money or BJP's money. The money belongs to the common man who has deposited it in a bank. My question is...account is mine, money is mine, then why should I stand in a line?"
Earlier in the day, Delhi Chief Minister Arvind Kejriwal questioned government's intent and said their intention is wrong. Modiji's surgical strike is not on black money instead the strike is on aam aadmi's savings. "Before the PM made the announcement, he alerted all his friends who possess black money and they have taken care of all of it," Kejriwal said.
Days after Prime Minister Narendra Modi announced the demonetisation of Rs 1000 and Rs 500 currency notes, Congress vice president Rahul Gandhi visited State Bank of India branch at the Parliament Street in New Delhi to exchange Rs 4,000 worth currency notes.
When bank authorities invited him inside, the Gandhi scion insisted that as the poor man is going through a lot of hardship, he has come to express his solidarity with them. "These people have been standing in the queue for hours. The poor man is going through hardship and I have come here to exchange Rs 4000. When I came here, the queue was moved inside, but I want to stand in queue," he said.
When Gandhi was reminded that the Prime Minister said those opposing the demonetisation scheme are on the side of black money hoarders, he replied: "Do you see anyone dressed in suit-boot? All those present here are upset, but Modiji is not at all worried about this."
When asked his opinion on the scheme, Gandhi said that media companies and their millionaire owners and even the Prime Minister will not understand the full extent of the move's effects.