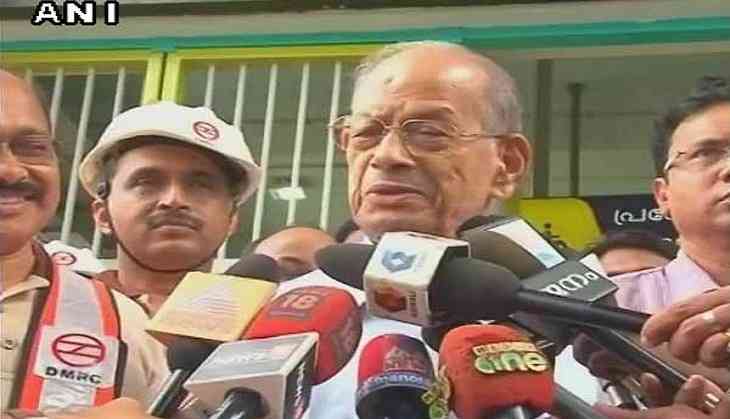 Principal Advisor to the Delhi Metro Rail Corporation (DMRC), E. Sreedharan on Thursday said he wasn't disappointed over not sharing the dais with Prime Minister Narendra Modi during the Kochi Metro's inauguration ceremony on Saturday, and added that the security of Prime Minister Narendra Modi was paramount.
Popularly known as the 'Metro Man', Sreedharan was inspecting a newly constructed metro station in the city.
"Don't make it into controversy. The security of the Prime Minister is more important. We must follow what the security agency says. I am not at all disappointed," he said.
Reportedly, Sreedharan's name does not feature in the list of dignitaries who will be on the dais when Prime Minister Modi inaugurates the Kochi Metro on Saturday.
The Kerala Government has written to the Prime Minister's Office and urged it to reconsider the decision.
The state government gave a list of 17 people who it wanted to share the dais with the Prime Minister. The list included Sreedharan, Chennithala, Thomas and Chief Secretary Nailin Netto, among others.
However, as per the PMO's release Governor P. Sathasivam, Union Urban Development Minister Venkaiah Naidu, Chief Minister Pinarayi Vijayan, Kerala's Transport Minister Thomas Chandy, local MP K.V. Thomas, and Kochi Mayor Soumini Jain will be attending the event.
Besides them, Prime Minister Modi and Union Minister Venkaiah Naidu are likely to address the function.
-ANI