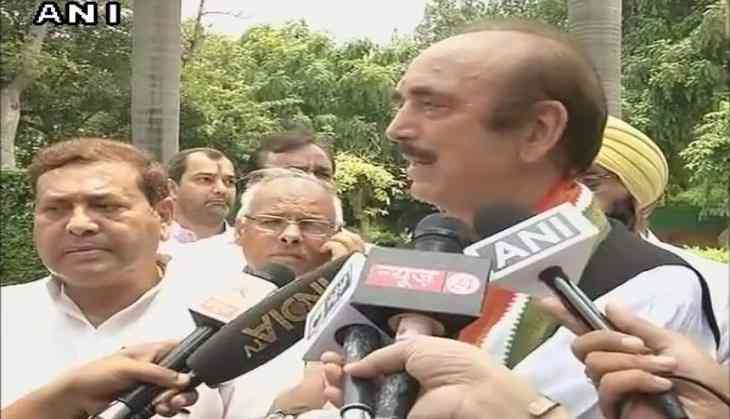 Hitting back at Bihar Chief Minister Nitish Kumar's decision to support National Democratic Alliance presidential candidate Ram Nath Kovind, Congress leader Ghulam Nabi Azad on 26 June said people who believe in one principle, make one decision, but those who believe in many principles, make different decisions.
"He (Nitish) was the first one who decided to defeat Bihar's Dalit daughter, not us," Azad said in a reply to Bihar Chief Minister's statement that his party was free to take its decisions, and admonished the opposition alliance for fielding "Bihar ki beti" (Bihar's daughter) Meira Kumar to lose.
Bihar Governor Ram Nath Kovind is set to be India's 14th president with the Bharatiya Janata Party announcing the little-known Dalit activist as its nominee for the country's top constitutional job.
Nitish Kumar had termed the opposition's stance as "losing strategy" and called for a better strategy for the 2019 Lok Sabha elections.
Meanwhile, National Democratic Alliance's (NDA) presidential nominee Kovind will visit Srinagar on 28 June as part of the ongoing campaign, seeking support from its alliance partner, the Peoples Democratic Party (PDP).
Kovind will be accompanied by Union Ministers M. Venkaiah Naidu, Jitendra Singh and Bharatiya Janata Party's (BJP) general secretary and party in-charge of Jammu and Kashmir Ram Madhav.
Kovind, along with leaders, would meet the BJP and the PDP members of parliament to seek their support.
Yesterday, Kovind met Uttar Pradesh Chief Minister Yogi Adityanath in Lucknow, after filing his nomination papers to seek support from BJP MPs and MLAs for the presidential post.
The nomination process for the presidential elections will continue till 28 June .
The election for the next President of India is to be held on 17 July, as President Pranab Mukherjee will demit the office on 24 July .
-ANI