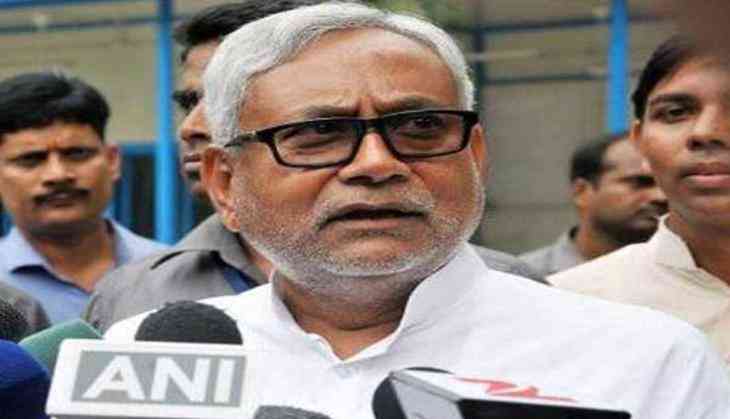 Former Bihar CM Nitish Kumar
The dissonance in the Bihar politics came ostensibly to the fore-front when on Wednesday evening Chief Minister Nitish Kumar resigned from his post, thereby, ending the 'mahagathbandhan'.
Nitish handed over his resignation to Governor Keshari Nath Tripathi and confirmed it to the media even as he emerged after meeting him.
"The Governor has accepted my resignation. I did everything a chief of a party in alliance should do. I myself have given away the post. Now, you will have to wait and see what happens next," he said.
"Lalu had told me to run the government that's in this distress. I never asked for anybody's resignation. I asked Lalu Yadav and Tejashwi Yadav to prove false the allegations slapped against them."
"It had become difficult for me to work in this enviroment. When I sided by demonetisation, they alleged me of having an ulterior motive. People had started believing falsely-reported things," he added.
Nitish also said that he met Congress vice-president Rahul Gandhi too before taking this decision.
"Before resigning, I had informed Laluji and Congress Bihar in-charge C.P. Joshi," he said.
"I am not blaming anyone. Those who want to blame me are free to do so," he added.
Nitish also took a dig at Lalu Yadav and said, "Gandhiji always said needs can be met on the earth, but greed can never be fulfilled."
The development came hours after Rashtriya Janata Dal (RJD) chief Lalu Prasad Yadav earlier in the day took a jibe at Nitish Kumar, saying he was aware of his longtime friend's party's - Janata Dal (United) (JD(U)) - growing bonhomie with the Bharatiya Janata Party (BJP).
Lalu also gave a pointed reminder that his party has the most number of seats in the legislature.
Addressing a press conference, he also said, "I made him the Chief Minister," however, asserting that all was well with him.
The CBI registered a corruption case against Lalu Yadav, his wife Rabri Devi and son Tejashwi Yadav on allegations of awarding the tender for development, maintenance and operation of hotels in Ranchi and Puri in 2006.
The RJD supremo, however, had refuted the allegations against him and called it a political conspiracy hatched by the BJP.
Since then, the BJP had been mounting pressure on Nitish to oust Tejashwi Yadav from the party.
Various internal meetings in the JD(U) and the RJD has also been taking place, every now and then, fuelling the reports and rumours that Tejashwi would soon quit the Cabinet.
The RJD, including Tejashwi himself and Lalu Yadav, had been asserting that Tejashwi would not resign, come what may.
-ANI