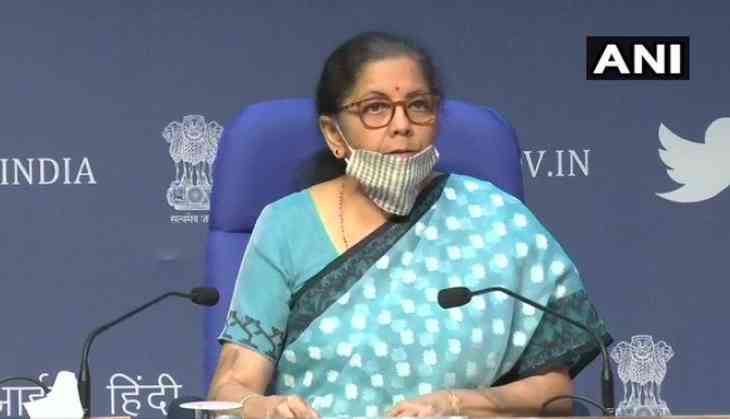 Finance Minister Nirmala Sitharaman
Finance Minister Nirmala Sitharaman on Wednesday laid out several specifics of the Rs 20 lakh crore economic relief plan put out by Prime Minister Narendra Modi, emphasizing on plenty of means to aid and abet MSMEs hampered by the Covid-19 crisis. The finance minister stated that more details of the economic package will be laid out in the next few day.
Here are the key highlights from the Finance Minister's briefing:
1) Employee Provident Fund (EPF) contribution for private employers curtailed by 2% for 3- months; will augment net wage.
2) Definition of MSMEs revised; slabs increased to guarantee more businesses come by profits
3) Only Indian organizations to be authorized in government tenders up to Rs 200 crore.
4) Rs 90,000 crore liquidity injection for Power Distribution Companies (DISCOMs)
5) Central government agencies to provide an extension of up to 6 months for all contractor
6) Coronavirus can be treated as "force majeure" for real estate sector, discharging firms of debts
7) TDS (Tax Deduction at Source) and TCS (Tax Collection at Source) rate brought down to 25% ineffect from 14th May, 2020 to 31st March, 2021; it will escalate liquidity by 50,000 crore
8) Income tax return assessment due date for FY 2019-20 stretched out from 31st July and 31st October to 30th November
9) Under "Vivaad se Vishwaas" scheme, Period of paying tax without additional amounts will be extended to December 31,2020
10) Rs 90,000 crore liquidity injection for Power Distribution Companies (DISCOMs)
Also Read: Nirmala Sitharaman's briefing begins: 'Economic package is to build self-reliant India'