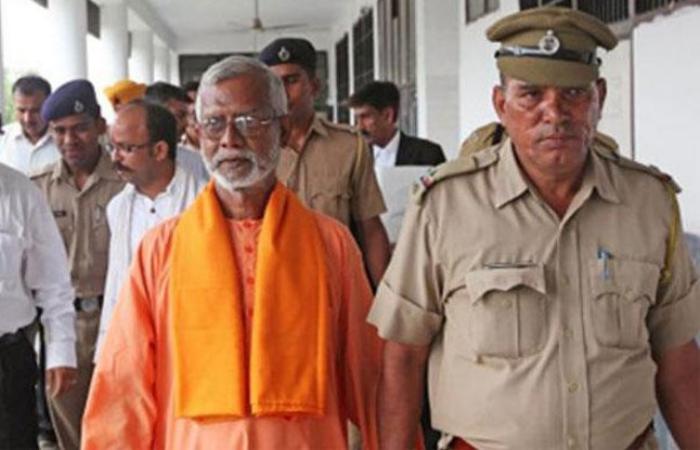 The National Investigation Agency (NIA) has decided not to oppose the bail granted by the Punjab and Haryana High Court to Swami Aseemanand, the alleged mastermind of the Samjhuata blast case of 2007 in which over 60 Pakistanis were killed.
Haribhai Parathibhai Chaudhary, MoS Home Affairs, said, "The NIA examined the feasibility of filing a Special Leave Petition and decided that there was no ground to challenge the bail order in the Supreme Court."Given this decision, Pakistan is likely to raise this issue with India during the forthcoming NSA talks.
India's NSA, Ajit Doval, has asked the NIA to prepare a detailed report on the progress of the Samjhauta trial for the talks.
The government has also declined to grant permission to challenge a bail order to two accused in the Mecca Masjid blasts case, Devender Gupta and Lokesh Sharma, on the grounds that the bail of the other two accused, Bharat Mohan Lal and Tejaram Parmar, had not been challenged by the prosecution.
It is likely that this decision will fuel allegations that the NIA is going soft on right-wing terror cases, and also lead to a diplomatic stand-off with Pakistan which has been accusing India of making a 'weak case' in the Samjhauta incident.Aseemanand, however, continues to be in jail as he is still to get bail in the Ajmer and Mecca Masjid blast cases, in which he is also an accused.
Asaduddin Owaisi, President AIMIM took on twitter saying "Where is BJP Zero Tolerance for Terrorism by not Appealing for cancellation of bail to accused Samjhauta Masjid,the Modi govt is biased".
NIA is taking a biased position. Aseemanand is involved in other cases too. NIA should have opposed bail, said Prakash Karat, former General Secretary of CPI(M).
Omar Abdullah, former CM of J&K said on twitter "How is the Indian justification of bail for #Aseemanand any different from the Pakistani justification of bail for #Lakhvi?".
Congress spokesperson Digvijaya Singh took to twitter saying "Swami Aseemanand's bail plea won't be opposed by NIA. Not unexpected at all".