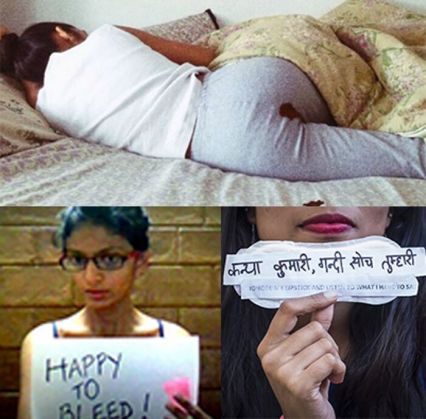 Do you think these pictures are disturbing? Therein lies the problem.
Menstruating women have long been denied entry, not only into religious places but also into kitchens.
The topic of menstruation is never broached during family gatherings and girls are asked not to discuss this in the open.
Of late, however, the voices demanding that menstruation be de-stigmatised, have been growing louder. Here are a few instances that we've seen this year:
Sabarimala temple row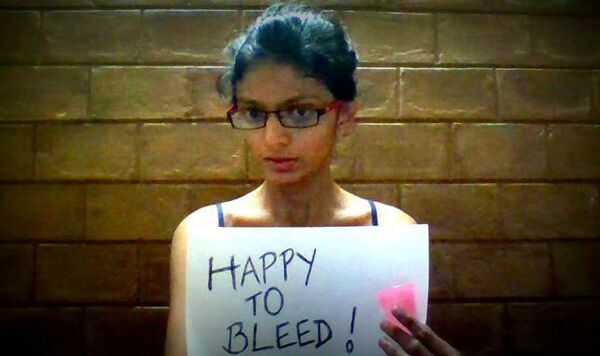 Kerala's famous hill shrine, the Sabarimala temple, sees crores of devotees from across the country during the pilgrimage season. However, women between 15-50 are prohibited from entering the temple.
Earlier this month, a Sambrimala official, Prayar Gopalakrishnan had said that women would be allowed in the temple only once the machine that scans menstruating women "just like the ones that check for weapons" is invented.
The #HappyToBleed campaign has been launched in response to Gopalakrishnan's comment.
"The statement has reinforced misogyny and strengthened myths that revolve around women," the statement posted on the Happy To Bleed page says.
The #HappyToBleed campaign started after Nikita Azad, 20, published an open letter in protest of Gopalakrishnan's statement.
Her letter garnered a positive response and soon snowballed into a campaign. "I did not expect such a great response. Social media is increasingly becoming a good platform to register resistance and like minded people to collaborate. It has really helped me to connect with people all over India and abroad," Nikita Azad told Catch.
According to Nikita, #HappyToBleed is a week-long social media campaign. Further ground action will be taken in January next year.
A natural bodily function
A number of solo players have also taken up the fight against the taboo surrounding menstruation. In August this year, a runner in the London marathon, Kiran Gandhi, made headlines for completing the marathon with her period-stained pants.
"I ran with blood dripping down my legs for sisters who don't have access to tampons and sisters who, despite cramping and pain, hide it away and pretend like it doesn't exist," Gandhi later told People magazine.
Messages on Sanitary pads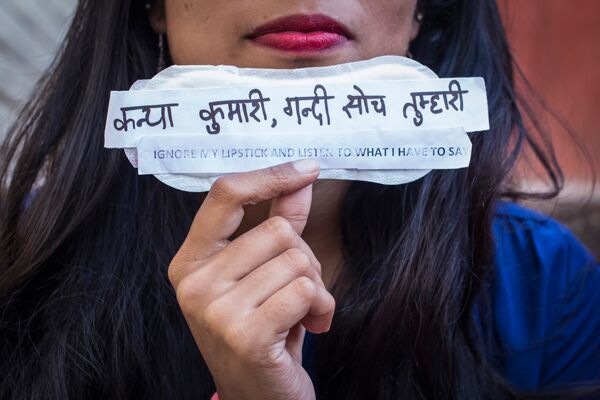 In March this year, a group of students from New Delhi's Jamia Millia Islamia wrote feminist messages on sanitary pads and placed them around the campus.
The campaign, aimed at fighting rape and sexism on the campus, soon spread to other parts of the country.
Some of the messages read:
"Period blood is not impure, your thoughts are."
"Menstruation is natural, rape is not."
"Streets of Delhi belong to women too."
"Rapists rape people, not outfits."
The activists are in touch with German woman, Elone Kastratia, who started an international campaign with the hashtag #padsagainstsexism.
Instagram's bloody mess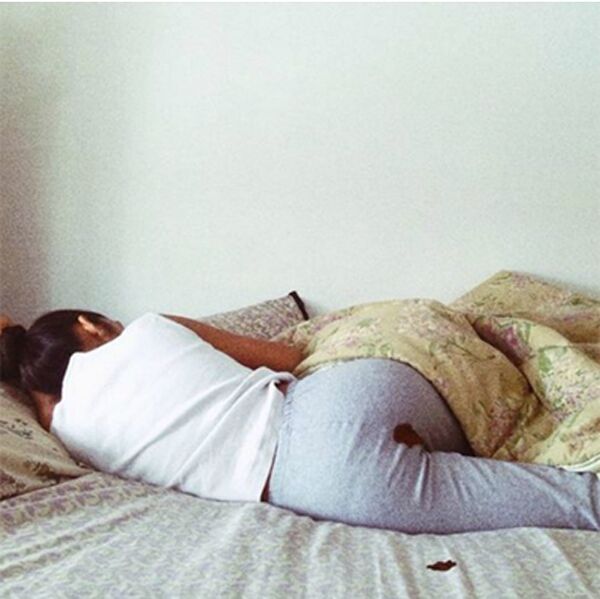 In March Instagram deleted this picture as it "flouted community guidelines". But Rupi Kaur, who had put the pictures, waged a war and confronted Instagram for adopting this sexist approach.
Instagram was widely condemned on social media. The photo sharing platform later put the photos back on Rupi's account.
Rupi Kaur claimed that through her work, she was trying to make a point about the difference between abused women and those in their natural state.