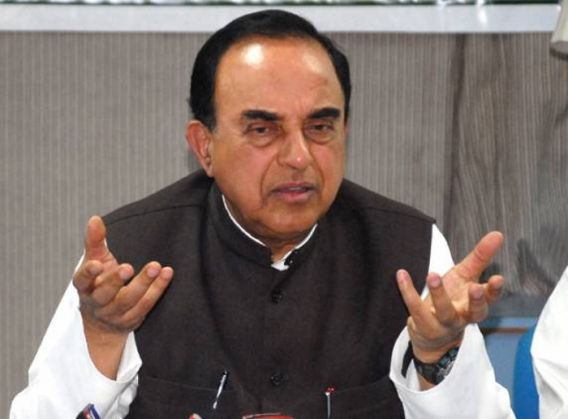 Not only did he criticize the Gandhis, he dragged former Indian Prime Minister Jawaharlal Nehru, who originally established the paper and wrote for it into the controversy as well.
In an interview to News X, he spoke about a host of other issues like his relationship with the Gandhis and that he would continue to pursue all cases of corruption against them.
BJP leader Subramanian Swamy hit back at the Congress for calling the National Herald case "political vendetta" and him a "proxy for the PM".
He further added that former Prime Minster Jawaharlal Nehru didn't form the National Herald and that there was a clear case of money laundering involved in acquiring the trust.
In an interview to News X, he made the following points:
Nehru never formed National Herald. His only contribution to the trust was buying a Rs 10 share.
Congress has always claimed that I am sidelined in BJP & suddenly I have become the alter-ego of Prime Minister Narendra Modi.

If Gandhis commit crime, I will pursue those cases. I exposed Rahul's British citizenship, I exposed Sonia Gandhi's fake degree case. I will continue to pursue cases against them.

I have no personal enmity against Gandhis. On the request of Sonia Gandhi, I had helped them bring down the Atal Bihari Vajpayee led BJP government in 1999.

This is not a case of political vendetta. The Court will take its time to hear the case.
He also tweeted about Sonia Gandhi (who is referred to as TDK by him.) being scared about a ED or CBI raid in 10 Janpath.
Today a senior Congi MP known to me from Rajiv's time said fear of TDK is ED & CBI raiding 10 Janpath. Hence the hullabaloo in Parliament!!

- Subramanian Swamy (@Swamy39) December 9, 2015
Further, he warned that after 19 December he would release more explosive material against the Congress.
After Dec 19th, I will move courts to ask CBI and ED to assist me in the trial in NH case

- Subramanian Swamy (@Swamy39) December 9, 2015
What is National Herald?
The National Herald was an Indian newspaper established in 1938 by Jawaharlal Nehru. The newspaper has always suffered financial hardships. Finally, its operations were shut in 2008 with a debt of Rs 90 crore. The paper was run by Associated Journal Limited.
What are Subramanian Swamy's allegations?
The Associated Journals Limited later became a real estate film with properties in Delhi.
In November 2010, the AJL was taken over by Young India Limited in which Congress president Sonia Gandhi and her son Rahul had over 70 per cent.
Other stake holders were Congressmen Motilal Vora, Oscar Fernandes, Sam Pitroda and Suman Dubey. They constituted the board of directors.
Swamy alleges that Young India had acquired AJL with a Rs 90.25 crore interest-free loan from the Congress party.
Under the Income Tax Act, no political organisation can have financial transactions with a third party.
Congress President Sonia Gandhi and Vice President Rahul Gandhi will have to appear before the Patiala House Court on 19 December at 3 pm during the next hearing of the National Herald case.