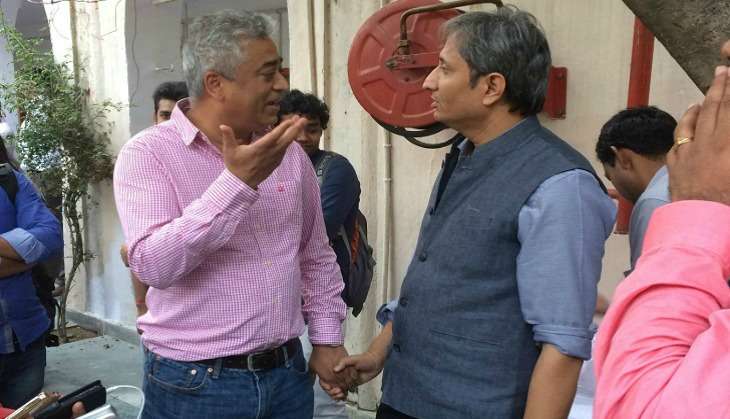 Information and Broadcasting Minister Venkaiah Naidu said on 7 November that the one-day ban on NDTV's Hindi channel would be put on hold.
The decision comes on the heels of the Supreme Court agreeing to hear NDTV's appeal against the ban - imposed by the Inter-Ministerial Committee of the Union Information and Broadcasting Ministry - on 8 November.
Scribes jointly protest NDTV ban at Press Club
The announcement came hours after journalists - from a number of media houses - gathered at the Press Club of India and passed a resolution alleging that the decision was "arbitrary and violates the fundamental principles of freedom of expression as enshrined in our Constitution."
"We demand that the government immediately withdraw the order in the interests of Indian democracy," read the resolution.
Representatives of the Editors' Guild, the Indian Women's Press Corps, the Federation of Press Clubs, the Delhi Union of Journalists, the NBSA, the IJU and the Press Association expressed solidarity with NDTV in the face of the ban.
Resolution by Press Club of India on @ndtvindia ban @CatchNews pic.twitter.com/O1yPEUKE00

— Nishant Saxena (@nishant9717) November 7, 2016
During a protest meeting at the Press Club of India on 7 November, India Today senior journalist Rajdeep Sardesai, Editor-in-Chief of The Citizen, Seema Mustafa, defence journalist Mukesh Kaushik and other scribes spoke out against the "government's undemocratic decision" to single out a news channel and ban it under the excuse of "national interest".
While Sardesai appealed to all news organisations to unite against the ban, Kaushik said that the government should not teach journalists "what is in national interest and what is not." "The Uri and Pathankot attack were failures of the government and security forces and that is where the we should worry," he said.
"Information many times more sensitive than shown by NDTV India is available on google," he added.
"I am not shocked to see what has happened. PM Modi does not respect democracy," Political editor of The Caravan, Hartosh Singh Bal said at the event.
Indian Broadcasting Foundation condemns NDTV ban
On 7 November, the Indian Broadcasting Foundation (IBF) released a statement condemning the ban.
Read the full text here:
The Indian Broadcasting Foundation (IBF) is concerned over the November 2, 2016 Order passed by the Ministry of Information & Broadcasting to prohibit the airing of NDTV India channel for one day throughout India from 00:01 hours of November 9 to 00:01 hours of November 10, 2016 for the alleged violation of provisions of the Cable Television Networks (Regulation) Act 1995 and the guidelines for uplinking from India.
IBF believes the Ministry of Information & Broadcasting should have referred the matter to the News Broadcasting Standards Authority (NBSA), the independent self-regulatory body of News Broadcasters Association (NBA) prior to taking extreme measures of this sort.
IBF requests the Ministry of Information & Broadcasting to reconsider its decision.