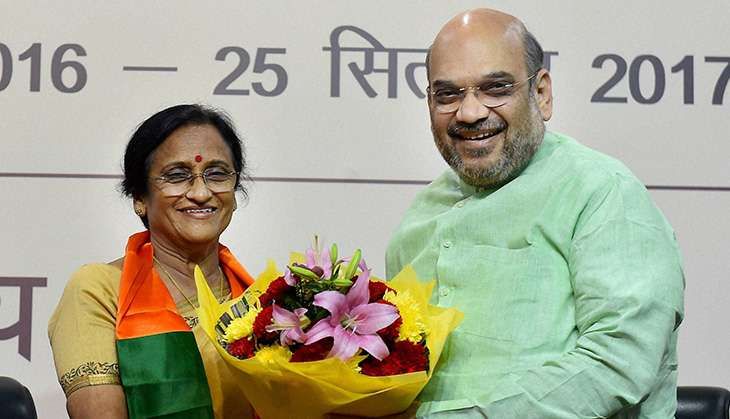 After deserting the Congress, Rita Bahuguna Joshi on 21 October slammed Rahul Gandhi over his leadership skills and said that the former is not able to lead a national party and that the people of India do not see him as their leader.
Stating that the Gandhi scion is not able to execute his duties as he should, Joshi said even the members of the grand old party are not accepting his working style.
"I am openly speaking that the nation does not see Rahul Gandhi as its leader. The members of the Congress are not accepting the working style of Rahul Gandhi. Rahul ji is not able to lead a national party like the way it should be helmed," she said.
Joshi further trained guns at senior Congress leaders Kapil Sibal and Ghulam Nabi Azad while calling them sycophants.
She alleged that these are few politicians, who are hand in glove with all parties and sell their outfits for personal benefits.
"I am shocked. And their statements make it clear that my exit from the party has affected them. The kind of personal accusations levelled against me is very shameful and irresponsible on the part of Congress Party. Kapil Sibal ji said that I took his money and left the party. The money which he gave was from his MP fund and was for the development of my constituency. I returned the same soon after resigning from the Congress Party. How could he say that he gave money to me? I would like to ask him that what is his stature that he will give me money. Rita Bahuguna has not entered politics for money," she said.
"I will also ask you to file a RTI and know who all have earned and built what in Uttar Pradesh in the past 20 years, you would know who is practicing politics for money. The people, who sell their party, are levelling allegations against me? I will not accept it. I respect Ghulam Nabi Azad but how did he lie that I went to him and asked for a ticket for my son? My son is not in politics, he never showed interest in contesting elections," she added.
Joshi further accused the Congress of practicing negative politics and said that the nation would very soon witness many others quitting the grand old party.
"I am speaking so blatantly because they falsely accused me. The Congress is playing negative politics. One should stand with the nation on foreign policies, against terrorism. The 'khoon ki dalali' comment was not needed. All the Congress leaders say that they are not able to face people after Rahul Gandhi made this comment," she said.
"I am with the BJP because it is the only party which can save UP. UP has faith in Modi ji. I joined Congress at a time when it was going through a very bad phase. If the Congress gave me a lot then so did I. I have no regrets over my decision," she added.
Dealing a heavy blow to the Congress Party ahead of next year's assembly polls in Uttar Pradesh, Joshi on 20 October formally joined the BJP in the presence of party president Amit Shah.
--ANI