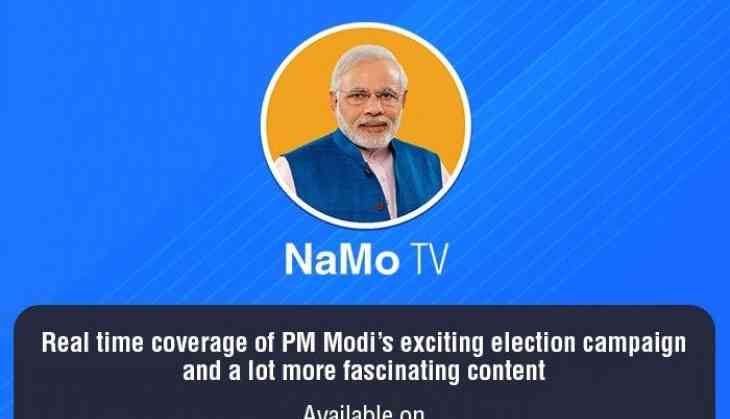 In a raging controversy over the NaMo TV, a channel named after country's Prime Minister Narendra Modi and which was launched last week, had never applied for a broadcast license, as claimed by a report published in ThePrint.
Under the said broadcast laws, one needs to get a compulsory security clearance but the NaMo TV didn't had one and hence, it stands illegal as per the law.
ThePrint, in its report quoted an official from the Information and Broadcasting Ministry, who said that it was the first time in the history of broadcasting in India that a channel has went on air without taking prior permission, clearance or license.
The day we were most looking forward to is here!

At 5 PM, lakhs of Chowkidars from different parts of India will interact in the historic #MainBhiChowkidar programme.

This is an interaction you must not miss.

Watch it live on the NaMoApp or NaMo TV. pic.twitter.com/XXKkLUuE7X

— Chowkidar Narendra Modi (@narendramodi) March 31, 2019
The I&B Ministry official said, "There have been instances of cable operators airing Pakistani or Chinese channels without permission in some places but this is possibly the first time when an Indian television channel, possibly owned by a politician or a political party, has gone on air without any permission."
Until now, it is not clear who has the ownership of the NaMo TV or on whose funding the channel is running. In a statement, the I&B Ministry has said that as it is an advertorial platform, it does not require any license to go on air. Although, a DTH company Tata Sky has made contradictory claim.
Tata Sky tweeted saying, "NaMo TV is a Hindi news service which provides the latest breaking news on national politics."
The I&B Ministry official further told ThePrint that "There are several channels that do not feature in the list because they were either not permitted a license or the process is underway, but in this case, permissions were never sought."
The Opposition had submitted a complaint to the Election Commission seeking an action, stating that if the Model Code of Conduct is in place, how can such advertorial platforms get aired?
Maneka Gandhi: Mayawati charges Rs 15 crore per ticket, she accepts diamond too