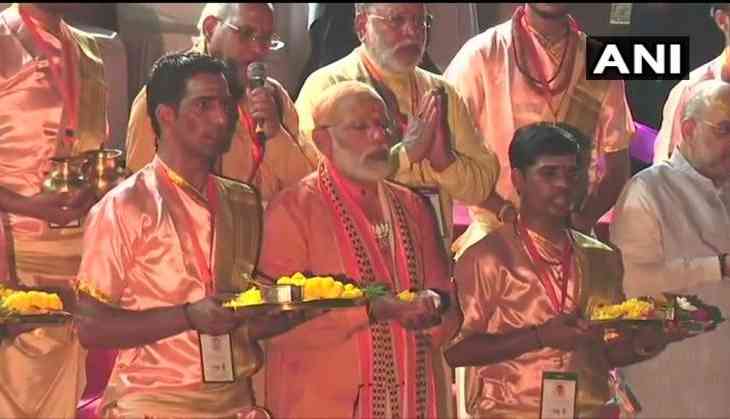 After a 6-km long mega rally in Uttar Pradesh's Varanasi, Prime Minister Narendra Modi reaches Dashashwamedh Ghat. From the NaMo NaMo chants to a sea of saffron, city transformed itself into a tsunami by the the supporters, citizens. The PM Modi's convoy reached the Dashashwamedh Ghat and the Prime Minister has also performed Ganga Aarti.
UP CM Yogi Adityanath, BJP President Amit Shah & UP BJP chief Mahendra Nath Pandey were also present.
#WATCH PM Narendra Modi offers prayers at Dashashwamedh Ghat in Varanasi pic.twitter.com/9d9j7VjU2G

— ANI UP (@ANINewsUP) April 25, 2019
The roadshow of Prime Minister Narendra Modi, ahead of filing nomination also witness NDA's show of strength and unity with top leaders of BJP and its allies along with several Chief Ministers of the states accompanying PM Modi.
PM Narendra Modi, while tweeting out his acknowledgement about visiting Varanasi, said, "After bumper rallies in Darbhanga and Banda, I am heading to beloved Kashi. There are a series of programmes lined up, which would give me another excellent opportunity to interact with my sisters and brothers of Kashi. Har Har Mahadev!"
Varanasi is set to vote in the last and seventh phase of polls which will be held on May 19. The results will be declared on May 23.
Also read: Modi chants echo in Varanasi as Prime Minister's road show turns city into 'saffron tsunami'