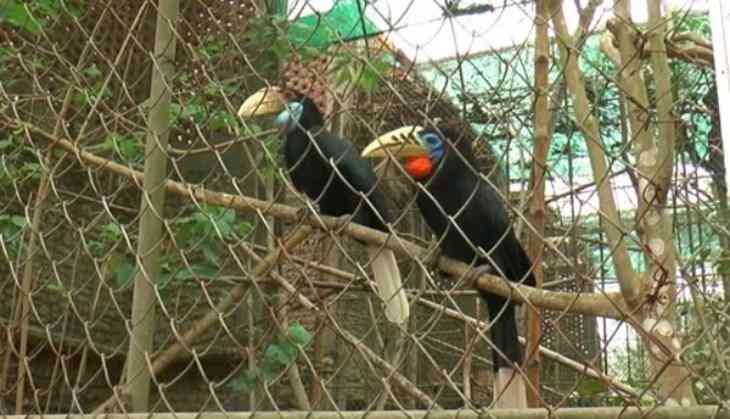 Blessed with favorable climate and a rich biodiversity, the northeastern province of Nagaland has immense potential to attract tourists from all across the globe.
Adding another cap to its tourism sector, the one and only zoological park in the state is emerging as one of the biodiversity hotspots in the entire north-east region, thereby attracting a large number of tourists.
The Nagaland Zoological Park, situated six kilometers away from the town of Dimapur, is home to the majestic Bengal Tiger and the great Indian hornbill that has remained a major attraction for many visitors, who throng the park to get an overview of the wildlife species.
The park, inaugurated in August 2008, is recognized as one of the mini zoo under the Central Zoo Authority.
The topography area is gentle rolling plateau with low lying area ideal for ranging species of birds and animals.
Besides, conserving the endangered species of animals and birds, the zoo was established to inculcate and develop a sense of caring towards flora and fauna.
'This zoo has an area of 176 hectares which is one of the best in the northeast region and we received about 50- 60,000 visitors in a year from the neighboring states and from the mainland and roughly around 100 overseas of international visitors during the month of January and December,' said Sentichuba Aier, Director of Nagaland Zoological Park.
'The zoo is in the conceptual stage and as soon as the funds are available we will be able to provide all kind of facilities for the people of Nagaland as well as for neighboring districts of Assam,' Aier added.
The visitor timings of the zoo are from 9 a.m. to 4 p.m. The zoo remains open on all weekdays except Monday.
The zoo in the past few years drew attention of biodiversity scholars and observers from within and outside the state.
The resonances of the various species of animal engulf the streets and give the visitors an insight into the mystical beauty of the wildlife abode.
Presently, the zoo is a home to a wide range of animals, birds and reptiles like the barking deer, leopard, Himalayan black bear, owls, eagles etc.
'We also have programmes for the introduction of 'Macow', which is a giant size parrot which comes from South America and also we have plan to introduce wolves as well as Indian fox which are very rare animals. Many jackals are available in the region but there is no availability of Indian red fox so these are some of the rare animals,' said Aier.
The sight of the rare species of Hoolock Gibbons in the park attracts tourists from all across the region as well as from other parts as well.
Therefore, efforts are being made by the authorities of the park to elevate the park with world class facilities so that in the near future this biodiversity hotspot sets a benchmark in the tourism sector of the region.
-ANI