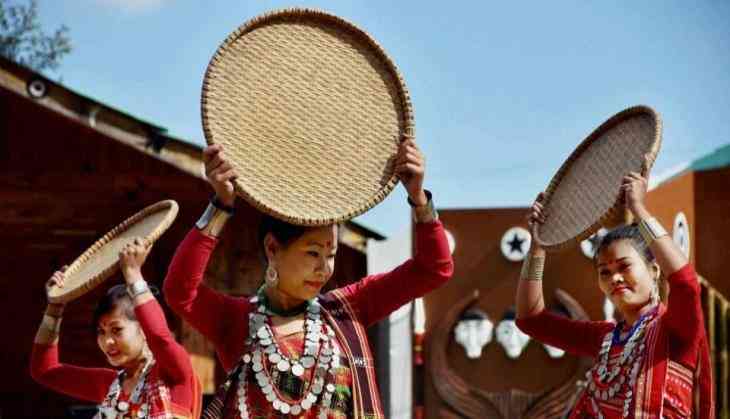 India's northeast is blessed with breathtaking natural beauty. It is best described as the virgin land, untouched by modernizations that have engulfed the world. It also has an equally diverse selection of cuisines. Most of the dishes are made of locally sourced ingredients and therefore make for a wonderful change of taste for food lovers across the country.
Recently, the Naga Food Festival in the national capital introduced Delhi resident to exotic flavours of Naga cuisine. Food lovers and gastronomes savored the authentic and exotic flavours of Naga cuisine at the festival organized the premises of Madhya Pradesh Bhawan.
The food festival was organized by the Nagaland government in collaboration with the governments of Madhya Pradesh and Manipur. The event acted as a platform for states to unite and strengthen their cultural ties.
Abhishek Singh, Resident Commissioner of Nagaland house, Delhi told to ANI, "There is lot of misconception about NE states and especially about Nagaland because very often this smaller state they come in news only for negativity people think it there is violent and they have misconception about the kind of people and the food they eat without realizing that there are good things about every region. So Nagaland is very rich in its organic produce, rich in its cuisine and the meat that is eaten the pork with bamboo shoots and other dishes is relish by anyone who have tried it. Added to that our music and culture is also different and common".
"It is a small step that we have started and depending on the response will have many such events once the winter sets in. We will repeat many more such events and planning to host similar events in Nagaland house and collaborate with other states as well," he added.
Ranging from the specially cooked pork with bamboo shoots, sticky rice cooked in various ways harvested from the Naga Hills, steamed fish cooked with bamboo shoot and Naga spices or 'Akha Khulo' to salads, chutneys which are prepared using the famous king chilly or 'bhut jolokia' and the locally grown green herbs remained a hit among residents. The organically-grown fresh pineapples also attracted people.
Speaking to ANI, Linda Newmai, known social activist from Nagaland said," Taking food to another state bhawan is a unique idea it's an exchange of culture, tradition, food. As personally for me I have been staying here in Delhi for more than a decade but still I look for my own food everywhere and every corner where I get ethnic food I search for it".
"Most of my friend's who are not Nagas they also enjoy I take them around. So this time the kind of event organized for promoting Naga food is a very good idea and I would like to thank the Nagaland house officials also", she added.
Khandula from Himachal Pradesh who was relishing the exotic food said that every state has their own food nutritious and healthy in their own way and Delhi is the capital where we can explore, we can eat and try other food. The food is really good and healthy and I came to know about the cuisine of Nagaland and would love to explore more other cuisines of the region.
"It's good if such kind of event happens more as different states will come together and it will be good to explore even for the youths", she added further.
Moreover, Madhya Pradesh and Nagaland are one of the few states to have ventured such step of unification under 'Ek Bharat Shresth Bharat'.
Subba Roy, Secretary to the Ministry of HRD said," We have seen that earlier few states have carried out cuisine festival engagement and people have not only relish the food but for many it has been a very pleasant discovery. Like the organic food that has been offered here coming from Nagaland is a major revolution. It's healthy and made with such attention to detail. So every state has its own variations of the same forms".
The event was inaugurated by Minister for Environment, Forests & Climate Change, Neiba Kronu and was also graced by Narottam Mishra, Minister for Water Resources along with few other dignitaries from both the states.
It is worth mentioning that on August 19 the cuisine of Madhya Pradesh was served in Nagaland House Delhi and residents and other guests got the flavour of Madhya Pradesh cuisine. On September 4, the cuisine of Manipur will be served in Nagaland House.
-ANI