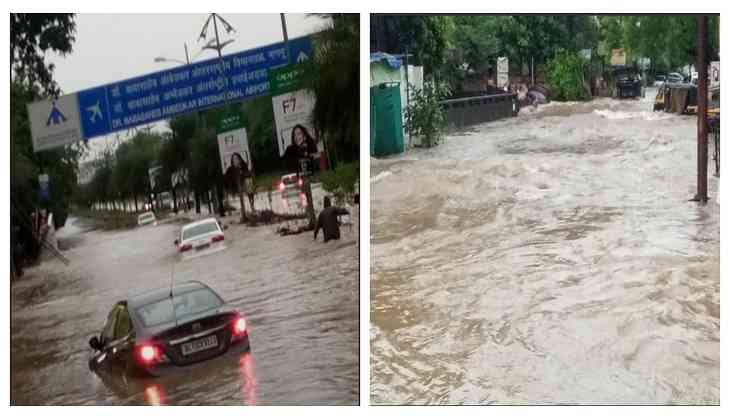 Mumbai city and its adjoining areas have been suffering a lot due to the heavy rainfall in the city which has affected the normal and daily life routine of the citizens. However, there is an alert that rain will continue to lash the city due for today as well. Due to the heavy rainfall, the schools and colleges will remain closed today as well. Simultaneously, the local trains facility will also be affected due to the rain.
According to the Divisional Railway Manager, the Western railway said that 'due to the heavy rains, up and down line through the line at Nala Sopara is halted. He also added that the local trains also running late on Western Suburbs by 10 to 15 minutes between Virar to Churchgate.
Mumbai: Heavy rain lashes the city; #visuals from Gandhi Market. #Maharashtra pic.twitter.com/swHYD05nrq

— ANI (@ANI) July 9, 2018
As per the reports of Zee News, BMC told that Mumbai has received more than 50 per cent of rainfall of this season in the last 20 days itself. Also, India Meteorological Department has forecast that the city will receive the rain from heavy to very heavy in its adjoining areas like the districts of Greater Mumbai, Thane, Raigad and Palghar during the next three or four days like 10th July to 13th July.
Severe water logging on mumbai thane godbunder road. #MumbaiRain #mumbairains #MumbaiRains2018 pic.twitter.com/5j2doxAjBE

— kapil (@kapilnathani) July 9, 2018
Meanwhile, the streets of the city were flooded and the local were affecting a lot as they have to go from one place to another through a knee-deep water. Many streets like Gandhi Market, Sion Panvel Highway, Chembur, and Vadala have been waterlogged due to the heavy rainfall.
Since the past 72 hours, six people have died in rain-related incidents in the Mumbai metropolitan region (MMR) in different districts.
Watch Video:
Also read: Mumbai: Shocking! On CCTV, woman on bike dies; crushed by bus after hitting pothole in rain in Kalyan