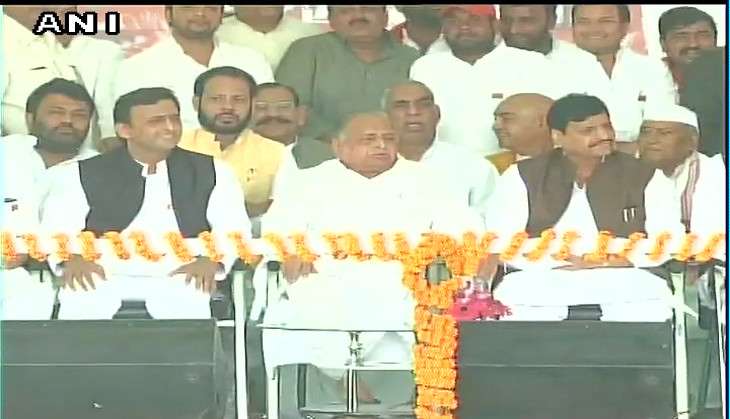 Seeking to send a message of unity in the ruling Samajwadi Party which has been battling a bitter power struggle, Mulayam Singh Yadav on 3 November flagged off UP Chief Minister Akhilesh Yadav's Rath Yatra in the presence of state SP chief Shivpal Yadav in Lucknow.
Ending days of suspense on whether he will be present or not, the SP patriarch arrived at La Martinere grounds - the flag-off venue - soon after Akhilesh reached there. Shivpal also joined them moments later.
Mulayam took a seat on the stage and was flanked by Shivpal on one side and Akhilesh on the other, to send a message that the party was united ahead of the upcoming UP Assembly elections barely a few months away.
"Akhilesh ko hum shubhkamna detey hain (I wish him well)," Shivpal said, adding the "vikas sey vijay ki aur yatra" will send a message of unity across the state and halt the BJP in its tracks.
"Our target is to prevent the BJP from coming to power in the state in the crucial 2017 elections," he said.
The enthusiasm among the youth leaders was palpable right since early morning with hordes of young party workers donning red caps and making a bee line to the venue, the very place where Akhilesh took oath as Chief Minister in 2012.
As some youths jostled to reach the venue, Shivpal advised them to calm down. "Josh mein hosh na kho dein (don't lose your cool in enthusiasm)," he said.
Ahead of the flag-off, Ramgopal Yadav's son and MP Akshay Yadav said, "People will vote for Akhilesh. We will contest in his name and win."
The presence of Mulayam, Shivpal and Akhilesh on one platform came months after a bitter acrimony in the Yadav clan that saw no holds barred tit-for-tat sackings and expulsion of followers of warring camps.
Assembly speaker Mata Prasad Pandey, SP vice president Kironmoy Nanda, Naresh Agarwal, MP Dharmendra Yadav and ministers Rajendra Chowdhury, Manoj Kumar Pandey, Narendra Verma, Balwant Singh Ramoowalia, Balram Yadav, Parasnath Yadav, Vinod Kumar alias Pandit Singh, Rammurti Verma, Raghuraj Pratap Singh alias Raja Bhaiya and Arvind Singh Gope apart from a number of sacked youth leaders were present.
--
PTI