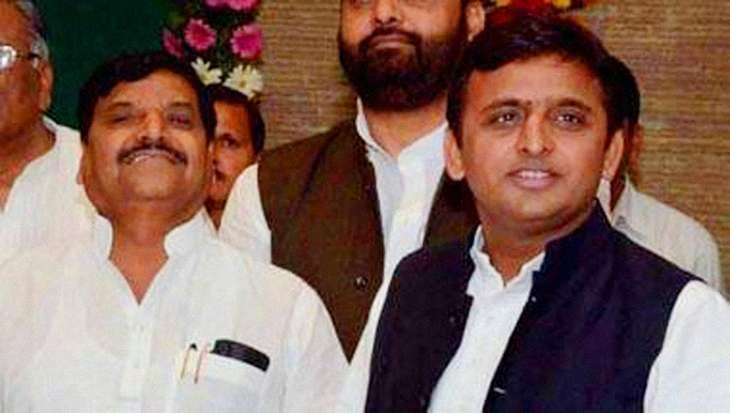 Hours after news broke on 23 October that Uttar Pradesh Chief Minister Akhilesh Yadav had sacked his uncle, Shivpal Yadav from the state Cabinet, Samajwadi Party supremo Mulayam Singh Yadav suspended Ram Gopal Yadav from the party for six years.
Ram Gopal, Mulayam's cousin and former (SP) General Secretary, had previously thrown his weight behind Akhilesh in his feud with Shivpal.
After being sacked, Shivpal said, "Seedha aarop laga diya gaya hai, chunav ka waqt hai, janta ke saath chalenge. Barkhaast hone ki chinta nahi hai, netaji ke netritva mein chunaav mein jaayenge." (it is time polls, I will walk with the public. I am not worried about being sacked, will fight election under Netaji.)
Akhilesh also sacked three other ministers - namely, Narad Rai, Saiyyada Shadab Fatima and OP Singh - on 23 October.
Meanwhile, supporters of UP CM Akhilesh Yadav burn the effigy of Amar Singh in Sambhal.
Also Read: UP CM Akhilesh Yadav sacks uncle Shivpal Yadav as Samajwadi Party feud rears head again
UP: Supporters of UP CM Akhilesh Yadav burn the effigy of Amar Singh in Sambhal pic.twitter.com/batE11um74

— ANI UP (@ANINewsUP) October 23, 2016
Shivpal Yadav Press Conference
He is involved with corrupt ppl, Ram Gopal has always misused name of Netaji; had raised this issue at various party forums: Shivpal Yadav pic.twitter.com/znivaE91nK

— ANI UP (@ANINewsUP) October 23, 2016
At the press conference, Shivpal Yadav lashed out at Ram Gopal Yadav. "He has been conspiring against me, he has been involved with BJP to save his son," he said. "Ram Gopal is involved with BJP, he met BJP leaders 3 times in the last few days which UP CM is not understanding," he said.
He also slammed UP CM Akhilesh Yadav. "He must understand who is with him and who is not," he said.
"Akhilesh is unable to see through Ram Gopal's manipulation" Shivpal said, adding, "Ram Gopal tried to harm the party".
Also Read: Yadav family feud won't cause Samajwadi Party split, knew Amar Singh would hurt party: Azam Khan
Political leaders react to Yadav clan feud
The feud drew varied reactions from across the political sphere. News of the growing rift in the Samajwadi Party assumes significance as it comes a few months before the Uttar Pradesh Assembly Elections, scheduled for early 2017.
Samajwadi Party leaders react
SP leader Neelam Romila Singh broke down in front of the media, and said that she wants the whole Yadav family to be together.
"It's CM's prerogative, he did what he thought was correct; not right to question it," suspended SP minister Sayeda Shadab Fatima said.
BJP reacts
State BJP chief KP Maurya said the time has come for Akhilesh to resign. "Time has come for CM Akhilesh Yadav to resign or he must not take policy decisions till he proves majority," he said.
"And it's a matter of time when we will all come to know officially that there has been a split. So this drama that is being enacted is nothing but a crisis in the SP. A crisis not for development or good governance, but because the sharing of the loot over the last five years could not split in an amicable manner," BJP leader Siddharth Nath Singh said.
"It's a clear case of groupism. Now finally those who have been looting, be it Azam Khan, Shivpal Yadav of Akhilesh, it is the people of Uttar Pradesh who are being looted," SP leader Amar Singh said.
SP family feud is destroying Uttar Pradesh but if this would not have happened they might still be looting people: Yogi Adityanath, BJP MP pic.twitter.com/cLNTTlbwQS

— ANI UP (@ANINewsUP) October 23, 2016
Akhilesh ji aap bohot pehle hi expose ho chuke hain, ye natak ab nahi chalega: Srikant Sharma,BJP pic.twitter.com/NvwHhzL2Un

— ANI UP (@ANINewsUP) October 23, 2016
"Democracy has demolished in Uttar Pradesh as monarchy is prevalent there. Ministers are appointed and expelled and then again re-appointed. We should understand that the Samajwadi Party is a sinking ship. Everyone is writing letters and mudslinging at each other. They are proving it time and again that socialism has come to an end. Today they have proved that they are not capable to rule Uttar Pradesh," Minister of State for Health and Family Welfare Anupriya Patel.
BSP reacts
"I had been saying all along that the Samajwadi Party is collapsing like a pack of cards. Mayawati ji already stated four and a half years back when Akhilesh became the Chief Minister that people of Uttar Pradesh will repent and we saw it this time," BSP's Sudhindra Bhadoria said.
"We witnessed Muzzafarnagar riots and thousands of people were rendered homeless, there were gang-rapes taking place all across Uttar Pradesh. There was the Mathura case, where SSP was murdered in broad day light. There were dozens of police stations where the SP workers would enter and thrash the police officers," Bhadoria said.