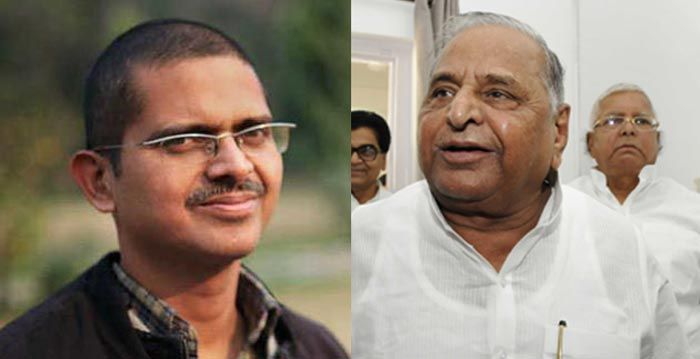 Senior IPS officer Amitabh Thakur has accused Samajwadi Party supremo Mulayam Singh Yadav of threatening him on phone. He alleged that Yadav called him at 4:45 PM on Friday and warned him to 'mend his ways' or else face consequences.
Thakur also released the audio recording of his alleged conversation with Yadav. In the two minute long recording, a voice, purportedly of Yadav is heard saying: "Ab aap sudhar jaiye, itta he keh diya maine (now you must mend your ways, I've told you as much)".
The voice also refers to a 'dawat' in Jasrana. According to Thakur, Yadav was referring to an incident in 2006 when he was reportedly assaulted by an SP MLA and his supporters in Jasrana.
Thakur and his wife Nutan Thakur, an RTI activist, have been at loggerheads with the SP government for a long time. Thakur alleges that he was threatened because he and his wife had complained against state minister Gayatri Prasad Prajapati.
Here's the transcript of the audio recording as released by Thakur. Catch can not independently verify the authenticity of the audio clip
Assistant: Netaji wants to speak to you
Amitabh: Who Netaji?
Assistant: Honourable Mulayam Singh Ji
Amitabh: Alright
************
Mulayam Singh: Hello
Amitabh: Jai Hind Sir, Amitabh speaking
Mulayam Singh: Amitabh Thakur, you have forgotten about the 'Jasrana' feast incident, will have to do the same to you
Amitabh: Sir, please order sir
Mulayam singh: Why are you refusing the order, did you forget about the feast at Ramvir's house in Jasrana?
Amitabh: I did not get you sir
Mulayam Singh: You were there
Amitabh: Sir, I was when you were the Chief Minister
Mulayam Singh: Then? You were very shameless
Amitabh: What happened sir?
Mulayam Singh: (talks about some incidence at the feast), they took you inside the school during 'Ramvir's feast
Amitabh: Sir, I am not able to understand
Mulayam Singh: I saved your life then; everybody wanted to beat you. That is why they took you inside the school.
Amitabh: Sir, what is the order? I don't understand
Mulayam Singh: Something even worse will happen to you, be careful. I sympathised with you earlier; I went to Patna, family members said he is our son, take care of him. Now you keep quite.
Amitabh: Sir what happened? I can't understand anything
Mulayam Singh: You talk against 'him'
Amitabh: against whom sir?
Mulayam Singh: Now we will show you. Behave yourself, that's all I can tell you.