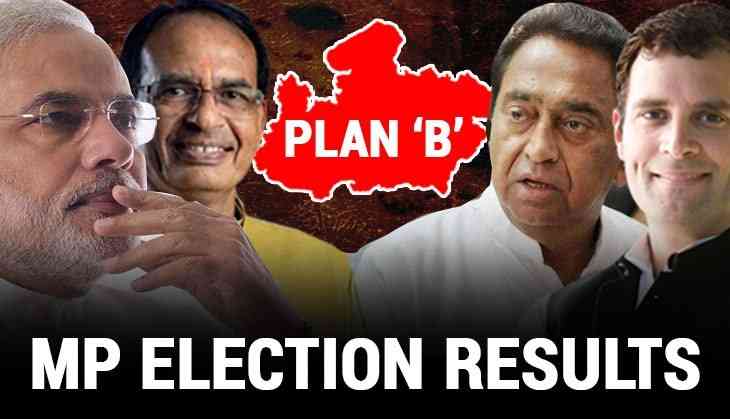 Counting of votes has begun in the five states i.e. Rajasthan, Madhya Pradesh, Chhattisgarh, Mizoram and Telangana today at 8 am. Amid voting day, in Madhya Pradesh, both leading parties BJP and Congress are working towards their plan 'B'.
BJP and Congress are focussing towards their plan in case, they don't cross the majority to win the seats in the state.
Earlier, exit polls have predicted that there will be a tough competition between the two parties only with a difference of just a few seats.
Shivraj Singh party has already predicted for its 4th term in the state while Congress is attempting to wrest the power of BJP after 15 years from the state.
In their plan B, the parties will focus on the small parties and independent candidates and senior leader in the state, so that they could get the support while forming the government in the state.
However, the leaders from both parties have already expressed their confidence that they will gain the majority in the state and ready to form the government.
Earlier, MP current Chief Minister Shivraj Singh Chouhan has refused the exit polls and assured that the Bhartiya Janata Party will cross 200 seats in the 230-member assembly.
He said that they will make a come back in the state again. While the state Congress chief Kamal Nath has said that they will win more than 140 seats in the state and asked to just wait and watch on the vote counting day.
Also, Congress party campaign committee chief Jyotiraditya Scindia has said on Sunday that Congress has worked to dislodge the BJP and also said that the change is required in the state.
Also read:Assembly Election Results 2018: Semi-final battle between PM Modi and Rahul Gandhi begins in Chhattisgarh, Rajasthan and MP