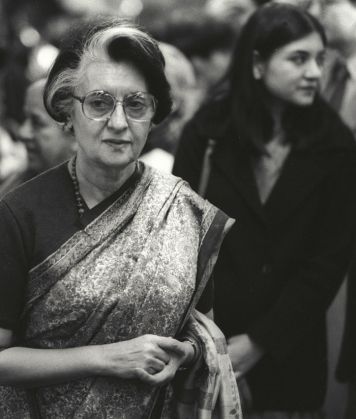 As 'political damaads' of the likes of Arun Jaitley are making news, and jibes about Robert Vadra being made, one tends to forget the significant female force in political families by the way of marriage.
Yes, we speak of political bahus who make headlines, not just by association, but also otherwise.
So while Jaitley is celebrated by Prime Minister Narendra Modi for not using his father-in-law Girdhari Lal Dogra's clout, we think a small reminder about daughters-in-law who hold their own in political parivaars wouldn't hurt.
Maneka Gandhi - Indira Gandhi
While Robert Vadra may not be the ideal
damaad
to the Nehru-Gandhi family, one remembers a certain Maneka Gandhi, who undeniably is the only family member in the current Union Cabinet as the Minister for Women and Child Development.
But Maneka didn't always have it easy. After Sanjay Gandhi's (Maneka's husband and then Prime Minister Indira Gandhi's son) sudden death in an air-crash, her significance in the Nehru-Gandhi family reduced greatly.
She even wrote a letter to her mother-in-law pleading Indira Gandhi to allow her to 'live [her] life decently', as mentioned in this article from 1982.
Maneka Gandhi went from being just a political family's daughter-in-law to the strong animal rights activist and founder of People for Animals (PFA) that we know today.
Separated wife of Bal Thackeray's estranged son Jaidev, it is a surprise that Smita Thackeray continues to live in the same household with all her rights in place despite the various degrees of removal.
Smita Thackeray, interestingly, was the producer of 1999 super-hit Sanjay Dutt, Govinda starrer Haseena Maan Jayegi and four other lesser known films.
Controversially close to her father-in-law, Smita was almost considered the de-facto chief minister during Sena-BJP rule. Bal Thackeray also left her a full floor of their house in his will.
Ayesha Takia - Abu Asim Azmi
Abu Azmi is the president of the Maharashtra state branch of the
Samajwadi Party
. He's also actress Ayesha Takia's father-in-law. Despite that, Azmi's controversial remarks are almost never supported by Takia and son Farhan Azmi.
Azmi made a sexist remark about how women should not step outside without men who are not relatives. Ayesha Takia responded to this comment strongly on Twitter by stating: "My father-in-law is the head of our family, we all love and respect him a lot. I have my own mindset which doesn't have to match with everyone even when it's someone I care for, love and respect deeply."
In 2014, Azmi made another highly offensive remark when he stated that, "Rape is punishable by hanging in Islam. But here, nothing happens to women, only to men. Even the woman is guilty. If any woman, whether married or unmarried, goes along with a man, with or without her consent, she should be hanged." Offended, the Dor actress clarified her stance on the subject by stating, "If what I am reading about my father-in-law's statements are true, then me and Farhan are deeply embarrassed and ashamed. We surely do not share this mindset, it's disrespectful to women, and if these statements are true, then it's sad."
While most of us have heard about Samajwadi Party leader Mulayam's daughter-in-law and
Akhilesh Yadav
's wife
Dimple Yadav
, it is his younger son Prateek Yadav's wife Aparna who caught our attention.
Aparna Yadav has a mind of her own. While the SP family remained quiet on the controversial BBC documentary by Leslee Udwin on the 16 December, 2012 gang-rape victim called India's Daughter, Aparna voiced her strong opinion against it. "Jo BBC kar raha hai ussey humara country poori tarah se rape ho raha hai. Yahan ki sanskriti, sabhayata ka poori tarah rape ho raha hai (BBC's act is equivalent to raping all of our country, our culture)," she said at a rally. She also burnt a BBC effigy.
The other eyebrow-raising comment made by Aparna was about PM Modi. She openly praised the Prime Minister for his Swachh Bharat Abhiyan despite being a Samajwadi Party member and bahu.