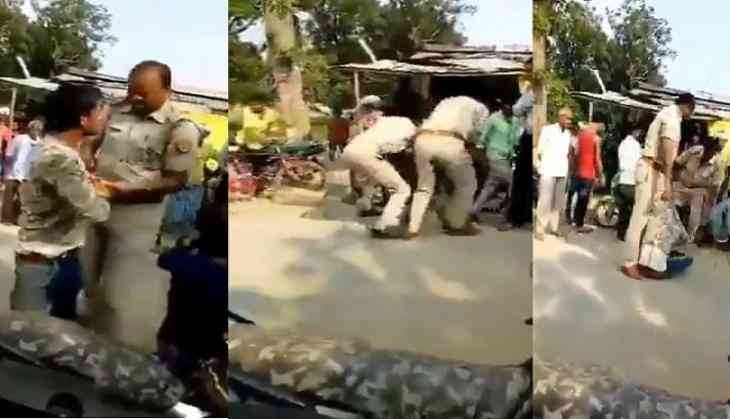 In a shocking incident came to light from UP where two policemen thrashed a man in the broad daylight. As per the reports of ANI, police personnel alleged that the man had violated the traffic rules.
The video of the shameful incident was shared by ANI on its official Twitter handle and the two cops can be seen thrashing the man in front of his minor son. Also, cops were slapping the man publicly.
The 2-minute long video begins with a man pleading the cops to stop.
But, one of the police officials didn't listen to him and hold him by his shirt collar whereas the onlookers were watching the incident silently. Soon, cops started slapping the man relentlessly.
Soon, the other cop joined in and dragged the man to the ground and started kicking him repeatedly.
After the video was circulated, Uttar Pradesh police took action against the cops and suspended them.
#WATCH: Man thrashed by two police personnel in Siddharthnagar over alleged traffic violation. UP Police have taken cognisance of the incident and suspended the two police personnel. (Viral video) pic.twitter.com/0dWvnSV0lL

— ANI UP (@ANINewsUP) September 13, 2019
According to ANI reports, the two police personnel have been identified as Sub-Inspector Devendra Mishra and chief constable Mahendra Prasad, stationed at Sakarpar police post of Kesraha police station here.
The Motor Vehicles Act came into forces on September 1, 2019. The amendment of the act and the hiked in fines for various violation of traffic rules caused hue and cry all across the country.
Also Read: Motor Vehicle Act: Maharashtra Transport Minister requests Centre to reconsider 'exorbitantly increased' fines