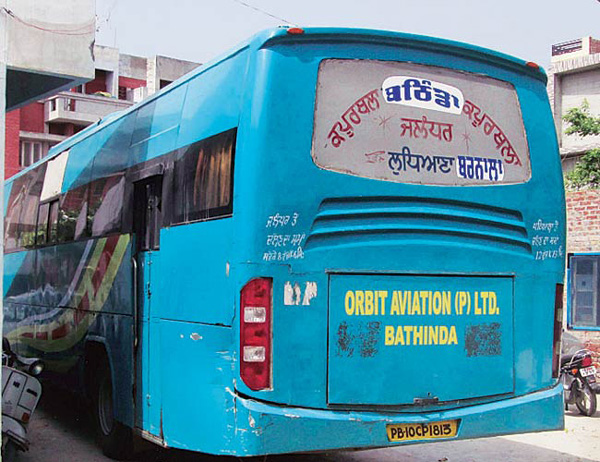 Shinder Kaur, the prime witness of a case in which her daughter, 13-year-old Arshdeep Kaur, was allegedly molested and pushed off a bus in Moga, Punjab, in April last year, turned hostile in court on Tuesday, reports The Indian Express.
The alleged incident had taken place on a bus which belonged to a transport company co-owned by Punjab Deputy Chief Minister Sukhbir Singh Badal. On 29 April last year, Arshdeep Kaur was reportedly molested by the driver of the Orbit bus and three others, and then pushed out of the bus to her death, after an altercation between Shinder Kaur and the staff over the price of tickets.
At Moga court on Tuesday, Shinder Kaur denied the incident and said that she "did not remember a single detail" of what happened that day. She also claimed that she had never seen the four accused in the case, who were present in the courtroom. The four, bus driver Ranjit Singh, conductor Sukhwinder Singh, helper Gurdeep Singh and Amarjeet Singh had been arrested after the incident.
Shinder Kaur on Tuesday apparently refused even to confirm the date of the incident, leave alone the three specific questions asked by the prosecution based on the statements she had earlier recorded with the police which had led to a case of murder and molestation filed against the accused.
According to a source present in the courtroom on Tuesday, Shinder Kaur was first asked on what basis she claimed that the four men used obscene language and gestures before pushing them out of the bus. To this she replied that she was unwell and could not remember.
The next question related to the identification of the accused, and Shinder Kaur replied that she had never met them.
Finally, she was asked whether she refusing to identify the accused because she had received Rs 24 lakh from the opposite party. To this, Shinder Kaur said that she was mentally unwell and did not want to comment.
Her memory of the day, she told the court, was limited to boarding the bus with her daughter and arguing over the price of the tickets. After that, however, she fell unconscious and could remember nothing more.
"She said that she fainted and was in an unconscious state when the entire episode happened. She had no further details of how she and her daughter landed up outside the bus," the source said.
On 11 December last year, Arshdeep's father, Sukhdev Singh, had turned hostile in court, claiming he was unaware of what had happened with his wife and daughter. Sukhdev had earlier told the police that "his wife Shinder Kaur had told him that bus driver and other staff first molested and misbehaved with her daughter and then pushed both of them out of the bus".
Arshdeep's brother Akashdeep Singh is also an eyewitness in the case. The next hearing of the case is scheduled for 25 March.
Two days before the hearing, Shinder Kaur had said that because she was unwell, she was unable to recollect the details of the incident. Her husband had said: "We do not have any enmity with anyone. Not even with the persons lodged in jail currently. Let this be a closed chapter as we do not want any punishment for them. I have a son and I get worried when he goes to school. I fear someone might harm him. We do not want any new problems in life."
Shinder Kaur, who had been summoned five times to depose before the Bali commission looking into the incident, said: "I don't know why I did not turn up. Whenever I think about April 29, I just remember me and Arsh boarding the bus. I handed over Rs 100 to the conductor for three tickets and we had an argument. I have no idea what happened after that. It's blank at the moment. I cannot recall if we were pushed off the bus or fell on our own".
The government compensation, said the couple, has been only partly fulfilled. "We got the compensation amount of Rs 24 lakh but the government job and education expenses for Arshdeep's brother are still awaited," said Sukhbir Singh. "I am doing small jobs of denting and welding and my wife who earlier used to work as domestic help, is not in condition to work now. We do not want anyone to be punished but government should keep its promise and hand over an appointment letter at the earliest. We were also promised that local government school will be named after Arshdeep with her statue installed but this too has not been fulfilled."
He added: "Three gunmen and three patrolling cops accompany us wherever we go. We are satisfied with our security arrangement but my wife cannot board a bus now. So we got a second hand car. I have no money for it, someone gifted it. But we want to get over it now. We will live with Arsh's memories."