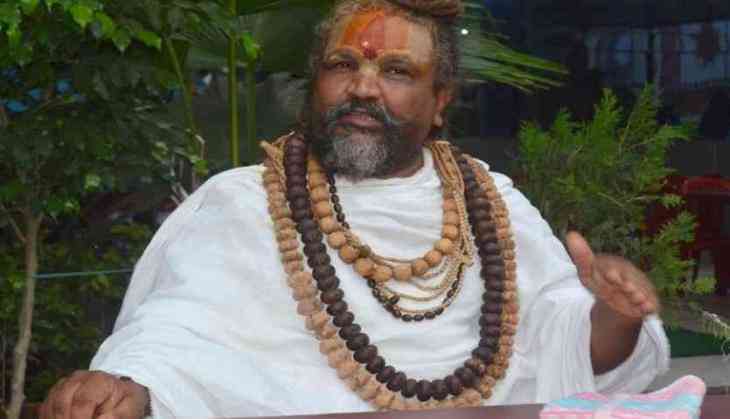 The Madhya Pradesh government on Tuesday awarded a Minister of State' (MoS) to the five Hindu religious leaders, a move that raised several eyebrows. The five saints who got the MoS status were associated with the Narmada river awareness committee.
The saint named as 'Computer Baba' is among the five others religious leaders to be given the rank of Minister of State by the BJP-led Shivraj Singh government.
A 54-year-old man with a beard and long hairs, who called himself as 'Computer Baba's, his real name is Namdeo Das Tyagi. He calls himself Computer Baba because he always carries a laptop with him. It is also said his brain is as quick as a computer, that's why he is called as 'Computer Baba'.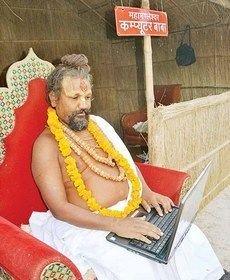 The Minister 'Computer Baba' is also said to be a gadgets freak, and this also might be another reason for the moniker given to him. According to Times of India, Three years ago, he becomes semi-famous for having sought permission to land his helicopter on the ghats during the Kumbh Mela. This, so he could take a dip in the Ganges.
The Computer Baba hails originally from Indore, was also Aam Aadmi Party's ticket aspirant in 2014 elections. But, he didn't get a ticket. However, The state's BJP government has awarded him a status of MoS and the other so-called religious leaders to a committee set up for the conservation of the Narmada river.
"As members of the committee, they have been given the MoS (Minister of State) status", a state official told TOI.
Earlier in 2014, when Computer Baba was seeking an AAP ticket, he was very critical of the saffron party and its ideological mentor, the RSS.
"I decided to go with AAP instead of the BJP or the RSS because the saffron brigade has only exploited sadhus and nothing else," said 'Computer Baba' in February 2015.
However, it seems like everything is forgiven now and Computer Baba thanked the PM government on Wednesday for giving him the status of MoS.
"We thank the government on behalf of the 'sadhu' community for showing trust in us, we will try our best to work for the welfare of the society," said 'Computer Baba' to ANI.
The MoS status has been accorded to Computer Baba, along with Narmadanand Maharaj, Hariharanand Maharaj, Bhayyu Maharaj and Pandit Yogendra Mahant.
Also read: MP Assembly Elections 2018: BJP government awards Computer Baba and 4 other saints Minister of State status