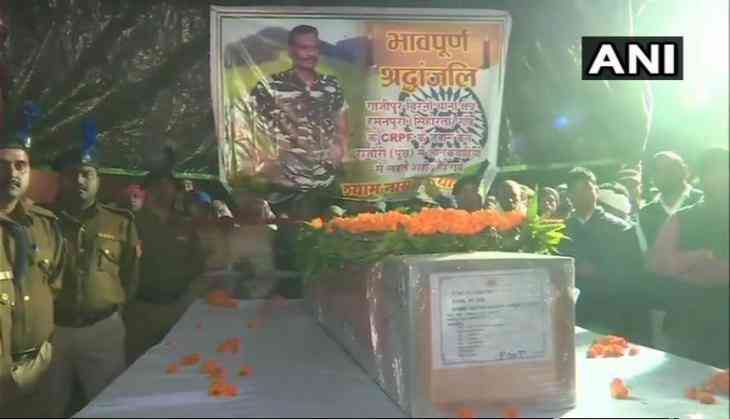 The mortal remains of Central Reserve Police Force (CRPF) personnel Shyam Narayan Yadav killed in an encounter with terrorists in Kupwara district of Jammu and Kashmir on Sunday was brought to his residence in Ghazipur.
He was accorded full state funeral in presence of the officials of district administration and CRPF. Villagers and relatives throng to his house for paying obeisance and for participating in his last rites. The 41-year-old soldier is resident of Hasanpura village under Birno Police station of the district.
His elder brother Raj Narayan Yadav said that government must give 'full freedom' to the security forces in Jammu and Kashmir.
"If they kill one of our soldier's then we must kill their 50 in response. The government has not given full freedom to forces," said Raj Narayan Yadav. "Unless full freedom is provided we would not be able to give a befitting reply to Pakistan," he added.
"10 to 12 of our soldiers are killed daily at borders. I retired from the Health Department but I would like to go and give my services in the Army so that I may take revenge and protect my nation," said Yadav.
He said that Shyam Narayan Yadav has two children and the government must give them jobs. He also demanded that the government should develop a park and statue in the name of the killed constable.
Five security personnel and one civilian lost their lives in the encounter between security forces and terrorists in encounter operations which entered its third day on Sunday in Kupwara district of Jammu and Kashmir, officials said.
-ANI