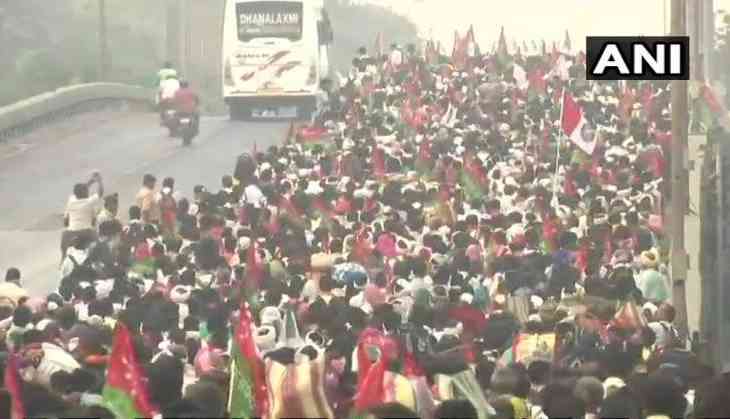 Farmers in Maharashtra have began there march and protest against the state government, to provide complete loan waiver and a minimum support price.
The group of farmers comprises mainly of North Maharashtra, Vidarbha, Ahmednagar and other parts of the state, where farmer distress is at a high.
The farmers are trying to push their long pending demands, for which they have already protested earlier this year and the Devndra Fadnavis governmenthad promised to fulfill their demands, and provide a complete loan waiver and the MSP, for all the farmers, but the claim has been hollow and the promise haven't been kept.
The Aam Aadmi Party has extended its support to the protest, and activist like Dr Rajesndra Singh, a water conservationist, Member of Parliament Raju Shetty will also be attending the march.
As the regular traffic will be affected by this march, the Mumbai Police tweeted saying, "Commuters starting journey from South Mumbai using JJ flyover, Lalbagh flyover and Parel flyover towards Dadar are advised to avoid & use Slip Roads till 10 AM. Farmer's agitation scheduled today. Regular Traffic movement on Dr BA Road towards CST and on these flyovers."
News agency ANI tweeted, saying "Lok Sangharsh Morcha that comprises of tribals and farmers across the state reaches Dadar. The Morcha that has begun from Kalyan yesterday is marching towards Azad Maidan in Mumbai. The farmers are demanding loan waiver and drought compensation among others."
Avik Saha, the leader of Jan Kisan Andolan, has said "Two bills to ensure these rights were drafted by the All India Sangharsh Coordination Committee (AISCC) and placed in parliament but both bills have been languishing. More than 60 per cent of the voters in India are directly or indirectly dependent on agriculture. The ruling party and opposition will now understand the gravity of this problem."
Also read: More than 1 lakh ATM's may shutdown by March 2019, note ban scenario may return to haunt
Maharashtra: Lok Sangharsh Morcha that comprises of tribals and farmers across the state reaches Dadar. The Morcha that has begun from Kalyan yesterday is marching towards Azad Maidan in Mumbai. The farmers are demanding loan waiver and drought compensation among others. pic.twitter.com/K6c3RHp4jb

— ANI (@ANI) November 22, 2018