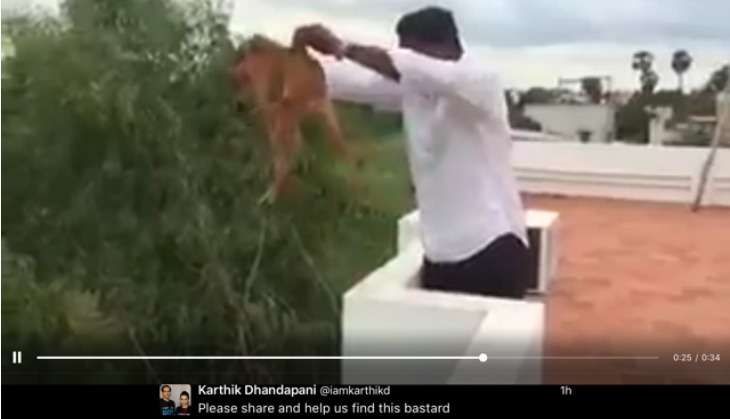 The duo that plumbed the depths of depravity by casually flinging their canine friend from a rooftop, and had been absconding since their video went viral on social media, has finally been brought to book by the police.
The pair of dimwits involved in the incident have been identified as Gautam Sudarshan, and his videographer friend, Ashish Pal. They are enrolled in a medical college in Chennai, and heading for a career in saving lives is clearly not a career goal.
Fortunately, the dog was reportedly rescued yesterday, after a group of outraged animal rights activists initiated a search. She was found in the same neighbourhood, with a fractured leg, and is undergoing treatment for the same. Her caretakers have christened her 'Bhadra (the warrior)' for having survived the horrific ordeal.
"Good news - The dog has been found alive. She is not able to walk properly. She is with us now. Will be under treatment. What breaks my heart is that she was still wagging her tail," Shravan Krishnan, one of her rescuers posted on Facebook late on 5 July.
"We confirmed she was the same dog cause the video looked like she was a female dog, there is a small black patch on her tail, her hind legs are injured and she wasn't able to move properly," he posted.
After the video capturing the gruesome act was widely publicised, police crowd-sourced information and tracked down the duo. Their parents have been contacted in their hometowns of Tirunelvelli and Kanyakumari. Reports suggest that the two men are expected to surrender in Chennai on 6 July. Both have reportedly said they will surrender in Chennai this afternoon.
"Their parents are bringing them to Chennai from Tirunelvelli and Kanyakumari. We expect them to be here by noon. We would arrest them," a police officer was quoted as having said in an NDTVreport.
However, with animal cruelty laws that prescribe a meagre amount of Rs 50 as fine, it is heartbreaking to know that the inhumane duo will probably not be proportionately reprimanded for their gruesome act.