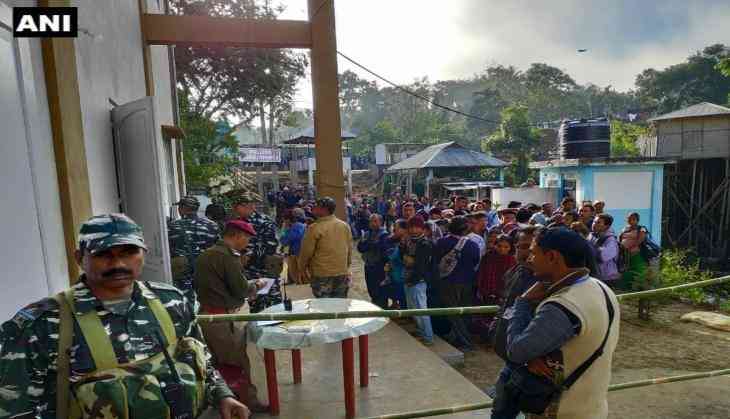 Polling in Mizoram began this morning as the state has been under the Congress rule from last 5 years and a swing of change is seen in the air with the new voters.
The agenda of BJP and Congress with a hard and soft Hindutva politics has seen a backseat in this state with the election swinging towards the key issues of road, transport and employment.
The Bhartiya Janta Party is eying to secure the state with their motto of "Congress Mukt Bharat" as it is the last bastion for the grand old party in the north east. People hav ebeen demanding for roads, better transportation and jobs as the migration in the state has grown drastically.
In this election, with 209 candidates in fray, the fate will be decided by the 7,70,395 candidates which includes 3,94,897 women candidates.
The 3 national parties which are contesting the election include Nationalist Congress Party, Bhartiya Janta Party and the Congress party with 3 state parties, the Mizo National Front being in the largest regional player, along with MPC and PRISM.
There are 63 independent candidates contesting the poll this time from the 40 constituencies. When it come to the criminal records, the Indian National Congress has topped the list with 3 candidates alongside Mizo National Front, who also has 3 criminal candidates. The BJP has 2 and one independent candidate has a criminal record registered against them.
The MNF is contesting on all the 40 seats, while the BJP has fielded its candidates for 39 seats. The Zoram Peoples Movement is contesting on 35 seats.
The polling in Madhya Pradesh has also begun, the result of which will be declared along with other states on December 11.
Also read: Madhya Pradesh Election 2018: CM Shivraj Singh Chouhan's assets up 22%, as BJP tops the list of crorepati
An elderly woman after casting her vote at a polling station in Kanhmun #MizoramElections pic.twitter.com/95FxeIAyVb

— ANI (@ANI) November 28, 2018