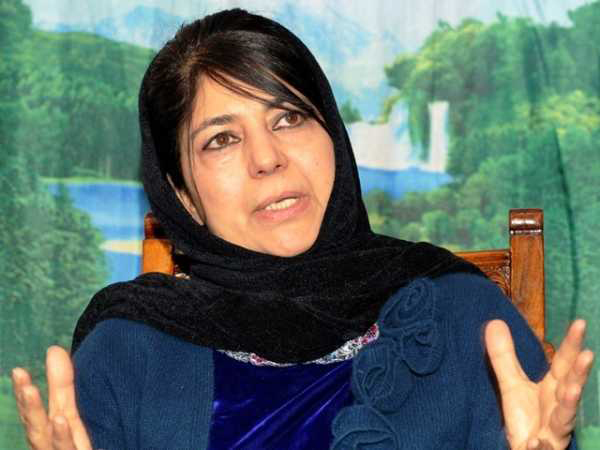 Mehbooba Mufti, who is seen as the successor of her father, the late Jammu and Kashmir Chief Minister Mufti Mohammed Sayeed, said she needs to be convinced that her party's alliance with the BJP in the state would help resolve Kashmir's issues, reports The Indian Express.
The People's Democratic Party (PDP) chief said this at a four-hour-long party meeting held at her residence on Sunday. J&K has been under President's Rule since 8 January, after Mufti Mohammed Sayeed passed away and Mehbooba Mufti has kept silent about taking over as chief minister and forming a government in the state.
The Sunday meeting was about government formation and taking forward "Mufti's vision of peace and development," said party leader Naeem Akhtar. During the meeting, Mehbooba said that the "purpose of that (alliance) was not limited to government formation, but it was to take Jammu and Kashmir out of the trouble that it has faced for most part of its history".
She said that for her father, the alliance with the BJP was based on "trust and belief that it will translate into real relief for the people of the state which ultimately would also serve the national interest and also bring peace into the sub-continent between India and Pakistan."
Akhtar told reporters after the meeting that the PDP would form the government with BJP "once we believe that the country believes in us, they repose their trust in us and we can carry forward the agenda which has a strong political side to it, which has the economic side to it and we are able to carry that forward. Mehbooba will take a call on this once she is sure that we can purposefully carry forward that agenda."
There are no demands on the BJP however, Akhtar said. "We are not demanding anything. They know where the implementation is needed and government of India, the BJP, is more aware of the problems of Jammu and Kashmir than we are. Jammu and Kashmir is not our monopoly. It is the problem of entire country and the government of India knows what to do and how to do about it," he said.