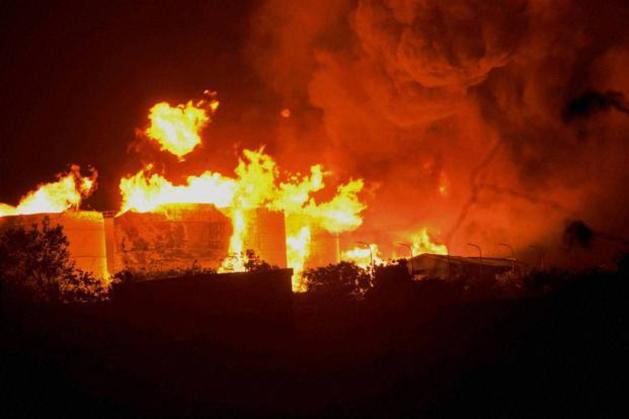 After almost 36 hours, the massive fire that broke out at the Biomax Fuels in Visakhapatnam was finally put out on Thursday, 28 April. No casualties were reported.
According to a government official, the building fire safety norms had not been implemented at the plant in Visakhapatnam's Special Economic Zone in Duvvada area.
The fire broke out at around 7.30PM on Wednesday.
In a statement, Director General, State Disaster Response and Fire Services, TA Tripathi, said that BFL had no fire safety systems as prescribed in the National Building Code, 2005.
In his report to the government, Tripathi said required safety distance between the storage tanks was not maintained; as a result the fire quickly spread from one tank to another. It engulfed 12 of the 18 storage tanks. There was no proper captive fire control system, automated drenching system or sprinklers, he said.
Collector Dr N Yuvaraj said in his report that according to the factory employees, short circuit in a motor sparked off the blaze.
Meanwhile, Andhra Pradesh Chief Minister Chandrababu Naidu has ordered a joint inspection by the AP Pollution Control Board, fire services and factories department officials of all the industrial units in the Visakhapatnam district and their industrial safety audit within a week.
--PTI