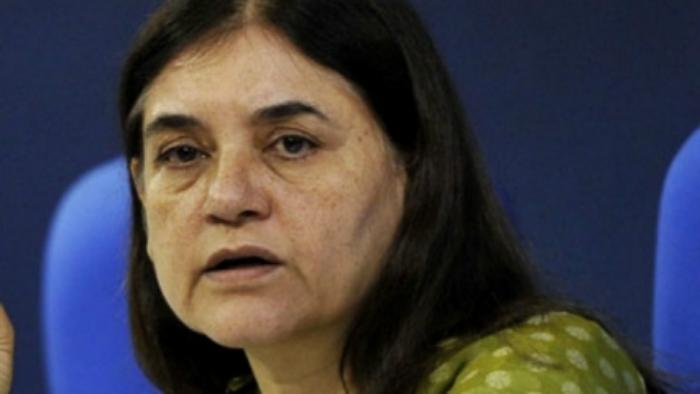 In case you were living under the delusion that marital rape merits a law that criminalises it, then think again.
Women and Child Development minister Maneka Gandhi presented her recently-altered viewpoint on the subject in Rajya Sabha when she said:
"It is considered that the concept of marital rape, as understood internationally, cannot be suitably applied in the Indian context due to various factors like level of education/ illiteracy, poverty, myriad social customs and values, religious beliefs, mindset of the society to treat the marriage as a sacrament.."
Cut to June 2015, when Maneka Gandhi had said:
"Very often, a marital rape is not always about a man's need for sex; it is only about his need for power and subjugation. In such case, it should be treated with seriousness."
Well, that escalated quickly.
While we haven't discovered why her ideas about marital rape took a complete U-turn in less than a year, the journey from "man's need for power and subjugation" to "mindset of the society to treat the marriage as a sacrament", is impressive in its ludicrousness. If the volte-face seems unbelievable, the breakdown of the logic behind it is worse.
We have a number of questions for the Ministry of Women and Child development.
How does one's education, or the lack of it, take away the right to not be physically violated? Why is it that the right to physical and sexual security are not being taken into consideration? Let alone not the personal likes/dislikes/wants/needs of the parties involved.

How does poverty come into play here? Do economically-weak women have no right to live without the fear of marital rape only because they are poor? Do poor men have a greater right to marital rape than rich men? Anybody else feel like that's a horrible sentence?

Which social customs and values are open to men raping their wives? And if they do exist, why are they being justified?

Same goes for religion. Are you saying there are certain religions that encourage a man's right over a woman's body without seeking her prior consent?

And then there's the issue of marriage being sacred and therefore encouraging of marital rape - the sentence is too silly to even hypothesise about the logic at play.
Nothing can justify rape, sexual harassment or the physical or emotional violation. So how then can marital rape be justified?
Recently, the Bombay High Court ruled that if a woman has given her consent for a sexual relationship, the court will not entertain complaints of rape, should the relationship go sour.
The judgement was passed in connection with a case had been filed by the woman against a man who she had been in a relationship with. The man promised to marry her, but that didn't materialise.
A Hindustan Times report says: "She alleged that while they were in a relationship, the man would take her to several hotels across the city and force her to have sexual intercourse, all the while assuring that he would marry her."
The Bombay HC judgement declares that adult women who did not say 'no' to a physical relationship cannot file a case of rape later on. Basically, if you said yes to having sex once, and if you are later coerced or blackmailed into having sex, it will no longer be considered sexual violation or rape.
If this doesn't scare you, nothing ever will.
With a judiciary that refuses to recognise that a woman's consent is required before every sexual encounter, and a legislative that seems to believe that marital rape is just a 'foreign problem', India, truly, is no country for women.
--
With PTI inputs
--
Edited by Blassy Boben