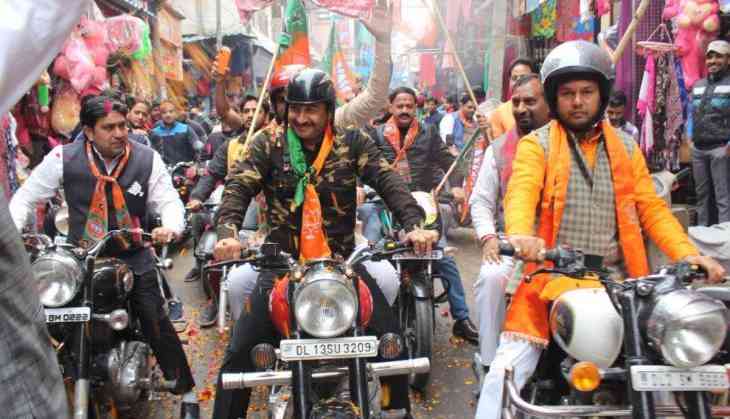 At a BJP's 'Sankalp bike rally' in Delhi, the Parliamentarian Manoj Tiwari was seen flagging off an Indian Army attire which has brought criticism from the Opposition, claiming that Delhi BJP chief has tried to 'politicise the armed forces.'
The rally which was conducted across different parts in Delhi, was flagged off by Tiwari on Saturday from northeast Delhi's Ghonda.
Mentioning about the recent achievements of the BJP and the armed forces, Tiwari said, "It is the result of the free hand given to the armed forces that they have taught Pakistan a lesson."
I wore simply because I felt proud of my Army.I am not in Indian army but i was expressing my feeling of solidarity.Why should it be treated like an insult?
I have the highest regard for our Army
By logic tomorrow If I wear a Nehru Jacket will it be an insult to Jawaharlal nehru? https://t.co/MqMXPEqxsu

— Manoj Tiwari (@ManojTiwariMP) March 3, 2019
The ruling party AAP in Delhi stated a criminal offence committed by BJP MP Manish Tiwari, wherein AAP's national spokesperson Saurabh Bhadwaj said, "Post the 2016 Pathankot attack, the Army had said that civilians should not wear the uniform. Tiwari has committed a clear offence under section 171 of the IPC. There is no point in us filing any complaint. The photos and videos are out in the public domain. If police want to take action, they can."
Ramakant Gosawmi, spokesperson of Delhi Congress said, "It is morally wrong on his part to dress up in Army fatigues. We should not politicise such a sensitive issue."
Justifying his move and mentioning first Prime Minister Jawaharlal Nehru, Tiwari has said that he just wanted to show solidarity.
He added, "I am not in the Indian Army but I was expressing my feeling of solidarity. Why should it be treated like an insult? I have the highest regard for our Army. By the same logic, tomorrow if I wear a Nehru jacket, will it be an insult to Jawaharlal Nehru?"
Also read: After Meghalaya tragedy, four dead in Nagaland's abandoned rat-hole coal mine