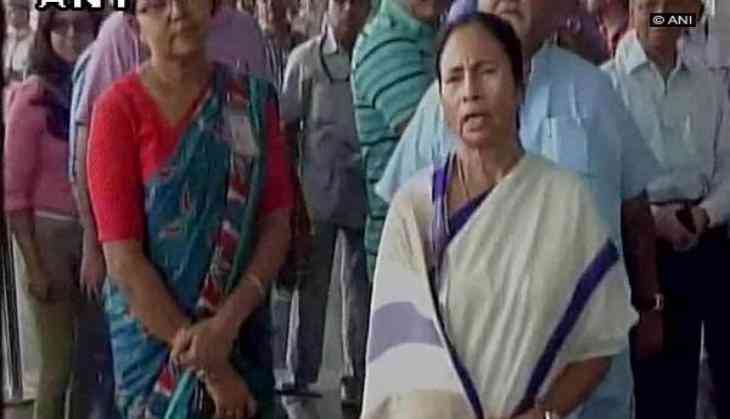 Even as the indefinite strike called by Gorkha Janmukti Morcha (GJM) enters into its eighth day, West Bengal Chief Minister Mamata Banerjee on 19 June left for her Netherlands visit.
Mamata, who left to address a United Nations meet, said her ministers were monitoring the situation in violence-hit Darjeeling.
"Violent protests won't be tolerated. My ministers are monitoring the situation," she told ANI at Kolkata airport.
Meanwhile, Union Home Minister Rajnath Singh on Saturday said he has spoken to Mamata over the law and order situation in Darjeeling.
Thirty-six policemen were injured on Saturday in clashes with the GJM supporters.
The GJM announced an indefinite strike from Monday encompassing Darjeeling and Kalimpong districts and the Dooars protesting against Mamata Banerjee's decision to make Bengali language compulsory in state-run schools.
The strike was called even after the Chief Minister assured that the new rule would not be imposed in the hill districts.
The protestors are also asking for a separate Gorkhaland, a long pending demand of the people of the hills.
Earlier in the day, Gorkha Janamukti Morcha (GJM) chief Bimal Gurung claimed that the West Bengal Police are illegally entering their supporters' houses and torturing them and also accused them of killing two of his supporters.
He said that GJM would further strengthen their agitation.
Mamata Banerjee tore into the GJM supporters and said that they aren't listening to the court, even after it had passed an order citing the bandh was "illegal."
Meanwhile, Rajnath Singh reviewed the security situation in West Bengal's Darjeeling by sending more troops to help restore normalcy as the state government has not yet submitted its report on the situation.
-ANI