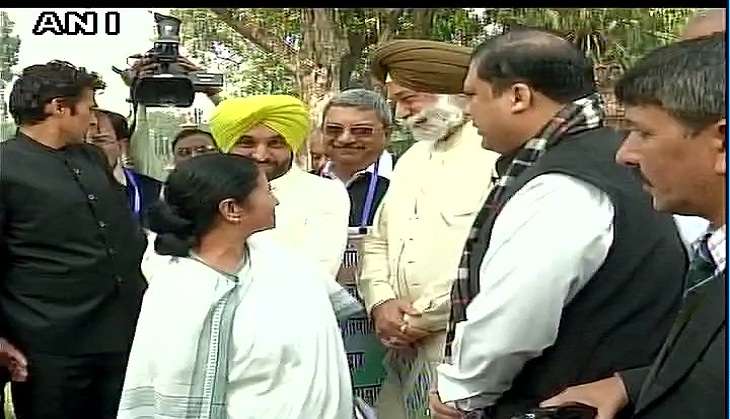 On 16 November, the commencement of the Parliament's Winter Session was marked by a protest march to the Rashtrapati Bhavan led by Trinamool Congress Chairman and West Bengal Chief Minister Mamata Banerjee, with BJP ally Shiv Sena joining ranks with her in protest against the Centre's demonetisation move.
Mamata Banerjee led the protest march to the President's House, flanked by the Aam Aadmi Party's Bhagwat Mann, and former Jammu and Kashmir Chief Minister and National Conference leader Omar Abdullah. Sanjay Raut is the Shiv Sena representative who is taking part in the march.
On 13 November, Banerjee had voiced her grievances with the currency ban that has been initiated, and appealed to leaders of several opposition parties to launch a joint campaign against demonetisation, including her political nemesis Sitaram Yechury, CPM general secretary.
Also read - Mamata Banerjee appeals to opposition leaders to launch joint campaign against demonetisation
Alongside Yechury, Banerjee has also called upon leaders of all opposition parties including Delhi Chief Minister Arvind Kejriwal, RJD supremo Lalu Prasad Yadav, Congress vice-president Rahul Gandhi, and Bihar CM Nitish Kumar, to devise a joint campaign against demonetisation and for meeting with the President in the coming week.
The Congress, CPI-M and the Janata Dal-United (JD-U) however refused to be part of the march. While the Congress and the JD-U expressed their solidarity with the TMC chairman's cause, they declined to participate in the protest.
Also read - Shiv Sena confirms Mamata-Uddhav meet, says it is important to unite to help common man
"I am meeting President Pranab Mukherjee on demonetisation issue. I have spoken to various political parties. If they want to join me, it is good. If not, then I will go alone with my MPs," Banerjee told media persons in Kolkata before leaving for Delhi.
Banerjee also reportedly got in touch with Odisha Chief Minister and Biju Janata Dal chief Naveen Patnaik and Samajwadi Party chief Mulayam Singh Yadav among others to join the march.