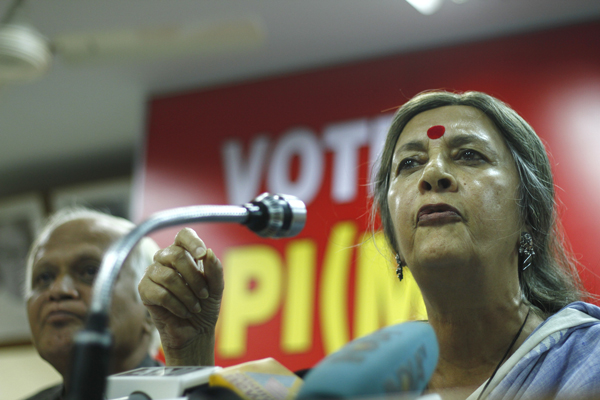 In the wake of the violence that rocked West Bengal's Malda district on 3 January, where alleged remarks made by right-wing activist Kamlesh Tiwari resulted in a mob of over one lakh rioting on the streets, CPM politburo member, and Rajya Sabha MP Brinda Karat spoke to Samar for Catch. Here are excerpts from the interview:
Can the Malda incident be viewed as a communal one?
I don't think the target of the incident was communal, but reasons for the outbreak were. There was an extremely communal hate speech made by a member of the Sangh Parivar, and some Muslim fundamentalists too reacted in a way which can be called communal. Even more objectionable is the role of the Trinamool Congress, which is developing a high-stakes polarisation in West Bengal.
Do you think the TMC and BJP are both trying to appease opposite ends of the communal spectrum?
The state government and the BJP both believe in sectarian politics. Both are least bothered about the interests of West Bengal. TMC utterly failed to address issues faced by the Muslim community but, instead pandered to fundamentalists. Unfortunately, both parties want to use religious beliefs for narrow political ends.
Does the violence in Malda have any connection with the upcoming West Bengal Assembly polls in April?
It was done deliberately with polls in mind. The legitimate anger of the people is being used by the RSS and TMC. Both are determined to encourage (fundamentalist) elements for electoral gains.
Was there existing religious tension in Malda from before or was it artificially created?
West Bengal was a symbol of peace. That idea has been wrecked by the Trinamool Congress.
The BJP's attempt to fan communal flames during the Bihar Assembly elections was met with rejection from the voters. Do you think the people of West Bengal will follow suit and reject sectarian politics in their state?
Certainly, that is our appeal to the people of Bengal.