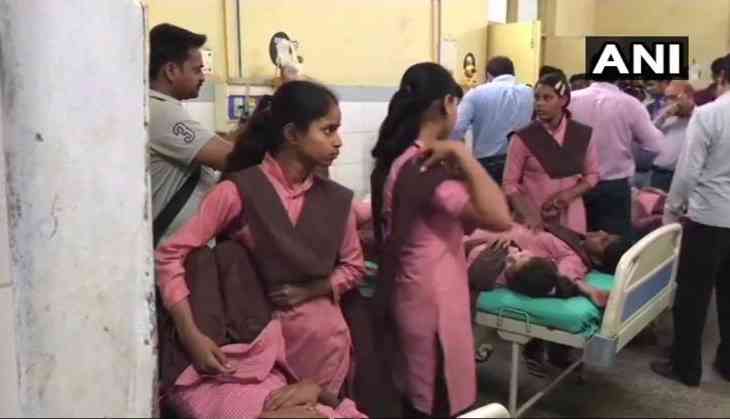 Students who fell prey to food poison (ANI)
After more than 40 students, who fell ill due to poisoning of midday meal, got admitted into hospital, Etah District Magisterate Amit Kishore ordered magisterial inquiry into the incident on Friday. The incident took place in the Kasturba Gandhi School, ANI reported.
This is not the first time when students fell prey to poisonous midday meal but in the last year, around 125 children had fallen ill after consuming mid-day meal at a primary school of UP's Belhari. They had eaten a meal of puri, chole and kheer after which they started vomiting and had affected by loose motions. They were rushed to the district hospital and declared out of danger. In effect, four teachers were suspended and other fiver had faced the termination.In August, around 220 students fell ill after having puri and sabzi in the midday meal at a shool in Sitapur.
Last year in Delhi, nine students took ill in a government school of New Delhi's Deoli area in February after consuming a mid-day meal in which rat was found. In the aftermath, North Delhi Municipal Corporation (NDMC) had stepped up efforts to monitor and improve the quality of mid-day meals at all city schools.
Taking stock of the incident, deputy chief minister of Delhi, Manish Sisodia, directed the chief secretary to monitor cooking of mid-day meals given in Delhi schools. According to a Delhi government official, the quality and quantity of the meals is inspected and tested at school-level by a committee comprising the principal, a school teacher and parents of three students. The meal is distributed to the students after 15 minutes of the inspection.