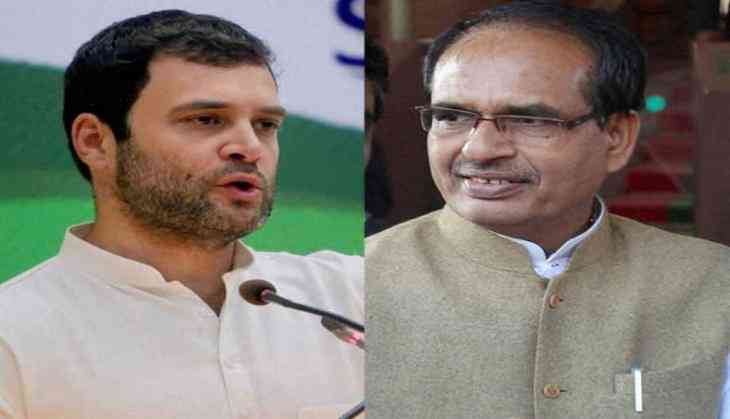 Rahul Gandhi and Shivraj Singh Chouhan
As the polling for the Madhya Pradesh election has begun, the fate of two national parties, namely Congress and the BJP will be sealed in the EVM's.
This time around, the MP election is in a new range of contest as the high anti-incumbency has taken a toll onto the CM Shivraj Singh Chouhan's government and made a tight battle for the BJP to win this election.
The election is being seen as a game changer for the Congress party, which is in reality at the stage of getting diluted amongst the few state party's due to the indefensible combination of the Amit Shah and Narendra Modi, the duo who have re-energized the BJP and made it possible for the party to rule over 20 states in the country.
This Madhya Pradesh Election has a lot on stake, with a trio appearing for the Congress party, Kamal Nath, Jyotiraditya Scindia and Digvijay Singh whereas the BJP has one face to toil upon, Shivraj Singh Chouhan. Also, the BJP enjoys the popularity and mass appeal of the Narendra Modi, who single handedly has led the party victorious at many fronts.
The MP election is being focused as an agrarian decision this time, due to the protest of the farmers erupting in the state in 2016-17 in Mandsaur, Morena, Gwalior among others. Farmers, protesting in Mandsaur were shot dead by the police as many as 6 of them had died.
And thereafter, it led to a devastating protest as the farmers suicide has also increased in the state and the farmer's son "Shivraj Singh Chouhan" was not able to justify the firings.
Also read: MP Assembly Elections 2018: Polling for 230 constituencies seats begins; see latest visuals
Madhya Pradesh Chief Minister Shivraj Singh Chauhan prays on the banks of Narmada river, in Budhni. Voting in the state is underway. #MadhyaPradeshElections2018 pic.twitter.com/Hh9hjNds8Y

— ANI (@ANI) November 28, 2018