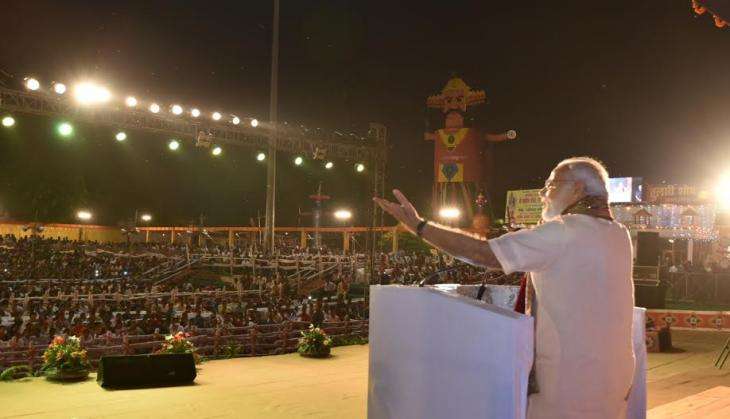 Prime Minister Narendra Modi, on 11 October, made his first public address after India conducted surgical strikes across the Line of Control (LoC.)
On the auspicious occasion of Dussehra, PM Modi chose Lucknow, Aishbagh, over Delhi's Ramleela Maidan, to give his address. Without directly referring to the military action, Modi said, "We are at a point now where those who support terror or allow it cannot go unpunished."
After his brief speech, he watched the Ramlila that was performed in the grounds.
Here are the key take-aways from PM Modi's speech at Aishbag, Lucknow:
1. PM Modi began with how we should burn evil within us every year like we burn Ravana effigies during Dussehra celebrations. "There should be a celebration of Dusshera within ourselves as well, kill the 10 "haras" within ourselves."
2. Talking about terrorism, he stated how it has become an enemy of humanity. He summarised that Lord Ram left an example of humanity for us.
3. Talking further about this point, Modi explained that if we are alert all the time, terror is bound to fail.
4. "The whole world is being affected by terrorism each and every hour. If you think we are free from terrorism, we are not. It is a virus affecting our society. Humanity should unite against terrorism," said Modi.
5. Modi then shifted gears to poverty, illiteracy and said that we get rid of these social evils.
6. "When India is celebrating Dussehra, the world is celebrating International Day of Girl Child. Women should be respected and treated right, no matter what religion or background one comes from. International Day of Girl Child is a sham if we don't stop comparing girl child with a boy child. By comparing we kill so many 'sitas'," said PM Modi.
7. Modi said that India is a land of warriors and those who give shelter to terrorism or terrorists shall not be spared.
8. "In 1992-93, I was talking to someone from US Dept of State on terrorism, they said its your "law & order problem". That changed after 26/11," the prime minister stated.
9. In order to conquer terrorism, we should kill the evils inside of us and then be alert, he warned.
10. We cannot save humanity unless we fight terrorism and terrorists, he concluded.
He ended his speech by chanting Jai Shri Ram.