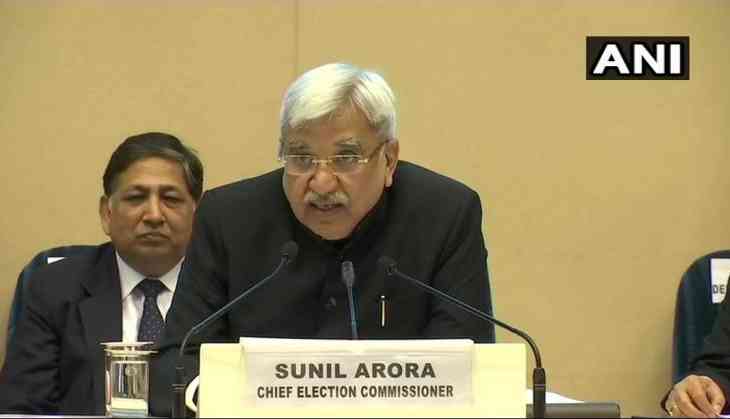 The Election Commission of India has announced the dates for the Lok Sabha polls and the polling will begin from 11 April, to be held in 7 phases.
In a press conference held here at Vigyan Bhavan, the Election Commission has notified that the polling will begin from 11 April. The results would be announced on 23 May.
The term of the current Lok Sabha ends on June 3. Now, as the Election Commission has announced the dates and the notification has come, the model of code of conduct has come into action. And the government will be barred from announcing any policy decisions.
Detailing about the polls, Sunil Arora said, "1st phase polling to be held on 11th April, 2nd phase on 18th April, 3rd phase on 23rd April, 4th phase polling to be held on 29th April, 5th phase polling on 6th May, 6th phase polling on 12th May, 7th phase 12th May. Counting of all phases on 23rd May."
Chief Election Commissioner Sunil Arora has stated that, "The Model Code of Conduct (MCC) comes into effect from today itself in the entire country. Any violation will be dealt with in the strictest manner."
#WATCH live from Delhi: Election Commission of India addresses a press conference. https://t.co/E0yEp9LHYq

— ANI (@ANI) March 10, 2019
Sunil Arora has further said, "There will be approximately 10 lakh polling stations in this Lok Sabha Elections as compared to 9 lakh polling stations in 2014."
CEC added that "Total electorate in this Lok Sabha elections will be 900 million, of which 15 million voters are in the 18-19 age group."
The election for the 543 constituencies across the nation would decide upon the next government, and in the last polls of 2014, it was the NDA which won 336 seats and comfortably formed the government.
Earlier, the last three elections (2004, 2009 & 2014) were held from 20 Apr to 10 May (4 phases), 16 April to 13 May (5 phases) and 7 April to 12 May (9 phases), respectively.
#LokSabhaElection2019: 1st phase polling to be held on 11th April, 2nd phase on 18th April, 3rd phase on 23rd April, 4th phase polling to be held on 29th April, 5th phase polling on 6th May, 6th phase polling on 12th May, 7th phase 12th May. Counting of all phases on 23rd May. pic.twitter.com/1IcW8KGg91

— ANI (@ANI) March 10, 2019