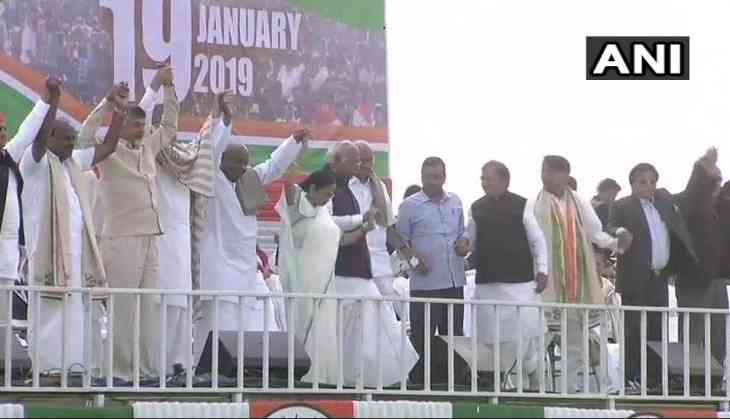 As the 2019 election is approaching, the Opposition parties are organizing rallies and campaigns against the ruling dispensation and the latest one to be added is Bengal CM Mamata Banerjee.
Mamata organized a mega opposition rally today in West Bengal and more than 25 parties leaders attended it with more than 40 lakhs of people present in attendance as claimed by the Trinamool Congress.
"We will figure that out later. The need of the hour is to defeat Narendra Modi and the BJP," said TMC chief.
RJD leader Tejashwi Yadav, present at the rally said, "PM Modi is a factory, wholesaler and distributor of lies". "Just understand one thing: If you're a chowkidaar, the people are thaanedaars (superior officers). They will punish you if you do anything wrong."
#WestBengal: Opposition leaders at TMC led 'United India' rally in Kolkata pic.twitter.com/VqHPZi5CAf

— ANI (@ANI) January 19, 2019
Sidelined BJP leader Shatrughan Sinha, who upped his ante against the PM Modi's government, said at the rally, "The opposition only has a few questions for you about the agreement. But until you answer them, the public will continue to say that chowkidaar chor hai (the watchman is a thief)."
Delhi CM Arvind Kejriwal held attacks at PM Modi and said he has destroyed the institutions, adding that "What Pakistan could not do in the last 70 years, the Narendra Modi government did in five. It divided the society, pitting one religion against another. And that is why we need to get rid of the Modi-Shah partnership."
PM Narendra Modi, while rejecting all the claims by the United Opposition Rally, said, "They might form tie-ups to save their family, their empire, but they can't run away from their misdeeds."
Also read: CJI Ranjan Gogoi & Justice Madan Lokur attend swearing-in of Pakistan Chief Justice, shares bench with him