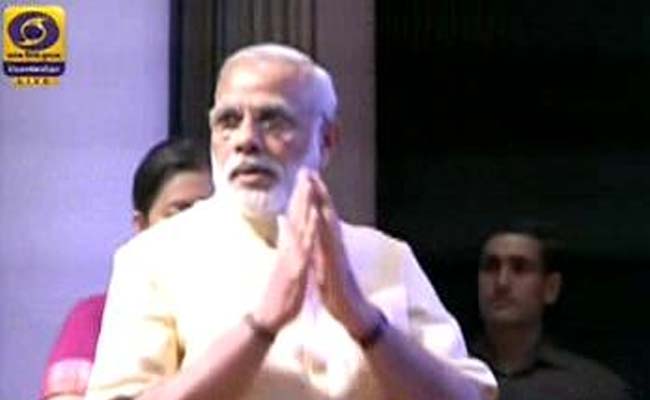 Prime Minister Narendra Modi will be addressing nearly 800 students from the capital ahead of Teachers' Day at the Manekshaw Auditorium. The PM will also interact with students from eight other cities via video conferencing. He will also take questions from students.
You can watch it live here.
Here's how the event unfolded.
10:00 AM: PM Narendra Modi arrives at the Manekshaw Auditorium, greets students. He will begin his address shortly.
10:09 AM: HRD Minister Smriti Irani welcomes the PM, greets students and begins her address.
10:14 AM: PM releases a coin of Rs. 125 and Rs. 10 in the honour of Dr Sarvepalli Radhakrishnan, former President and educationist, teacher and philosopher, ahead of his birth anniversary.
#TeachersDay:PM Shri @narendramodi releases commemorative coins in honour of Dr Radhakrishnan pic.twitter.com/52FbVYv5hE

— MIB India (@MIB_India) September 4, 2015
10: 15 AM: PM Modi launches Kala Utsav website, addresses students ahead of Teachers' Day
10:15 AM: Every student has memories of one teacher who made invaluable contribution in his life.
10: 30 AM: PM says a true teacher is one who gives equal attention to student who get good marks and average students.
10: 31 AM: A true teacher never retires.
10:32 AM: APJ Abdul Kalam said he wants to be remembered as a teacher. The day his term as President ended, he went to Chennai and started teaching students. And kept doing it till the last moment of his life. How great his life must have been. All his life he kept searching for young talented students.
10: 33 AM:
PM compares teachers to potters. Just like a potter shapes clay, teacher guides a student.
10:35 AM: A doctor saves one life he is praised, but a teacher makes 100 such doctors but never gets attention. This is the day to remember and give them their due.
10: 36 AM: Teachers Day was celebrated before also. But what happened. Students came dressed as teachers, girls wore saree. That's all what happened. But I want to interact with students on this day because children give you right reflection of what is happening.
10:40 AM: College students do their youth festival. But times have changed. Even our school kids want their cultural events.
10:41 AM:
We have to stop ourselves from being robots. W may progress but we have to make sure that we don't turn ourselves into robots and remain sensitive.Cultural activities will help us to preserve our sensitivity. I am sure, teachers and students will make this Kala Utsav a success.
10:42 AM: PM takes questions from students. These students are achievers in the field of sports and academics. They would be interacting with PM through web link.
PM Shri @narendramodi interacting with school children, on the eve of Teacher's Day at Manekshaw Centre pic.twitter.com/MkQZRjYfy2

— PIB India (@PIB_India) September 4, 2015
10:43 AM: He is asked who is the inspiration of his life.
10:44 AM:
I lived in a very small village. Not much was available to spent time. So I went to the library and read about the life and work of Swami Vivekananda. His teachings influenced me a lot.
10: 45 AM: Next question is from a student selected from a school in Manipur. Her question is about leadership qualities and youngsters entering politics.
10:46 AM: You must possess leadership qualities to enter politics. Leadership qualities can be evolved. But you must have clarity on why you want to be a leader. Is it because you want to win an elections or serve the people? As long as you are not pained by your fellow people, you cannot become a leader.
10:47 AM: Now Sarthak Bharadwaj, winner of Junior Master Chef is asking a question to the PM. His question is how can Digital India be a success when many villages in India doesn't even have access to electricity.
10:48 AM: PM asks him what he wants to be in life. Sarthak replies he wants to take India's cuisine to the international platform.
10:50 AM: Digital India is a movement to empower the common man. Electricity will not be a factor in its success. When India celebrates it 75th Independence Day, I assure you India will have 24x7 electricity supply.
10:55 AM: Next question is from a student from Goa, Sonia Patel. She is a physically challenged child who has won several awards in sports at international events. Her question to PM is about his favourite sports.
10:56 AM: PM jokes about playing politics. He says as a child he did swimming and later took to Yoga.
11:00 AM: Now Team Pentagon from Bengaluru will interact with the PM. They have designed a waste management mobile app Sellixo. Their question is about the challenges that the govt is facing in implementing Swachh Bharat Abhiyan. PM's congratulates them for their efforts.
11:20 AM: Don't confine yourself to the vicious circle of "degree aur naukri (degree and naukri)". If you want to write poetry, write it. You want to paint, keep on painting. Don't think about the consequences.
10:25 AM: Why is there a scarcity of good teachers in the country, asks a student.
I don't think India lacks good teachers: PM @narendramodi pic.twitter.com/uisV4QjdmH

— PMO India (@PMOIndia) September 4, 2015
10:26 AM: Can't people who have achieved a lot in their respective professions devote 100 hours in a year to teach children, questions PM.
10:27 AM: An achiever from Bokaro asks him what is his recipe for success.
10:28 AM: There is no recipe for success and there shouldn't be any. Failure is must for success.
10:30 AM: A student from Assam asks him what inspired him to write poetry.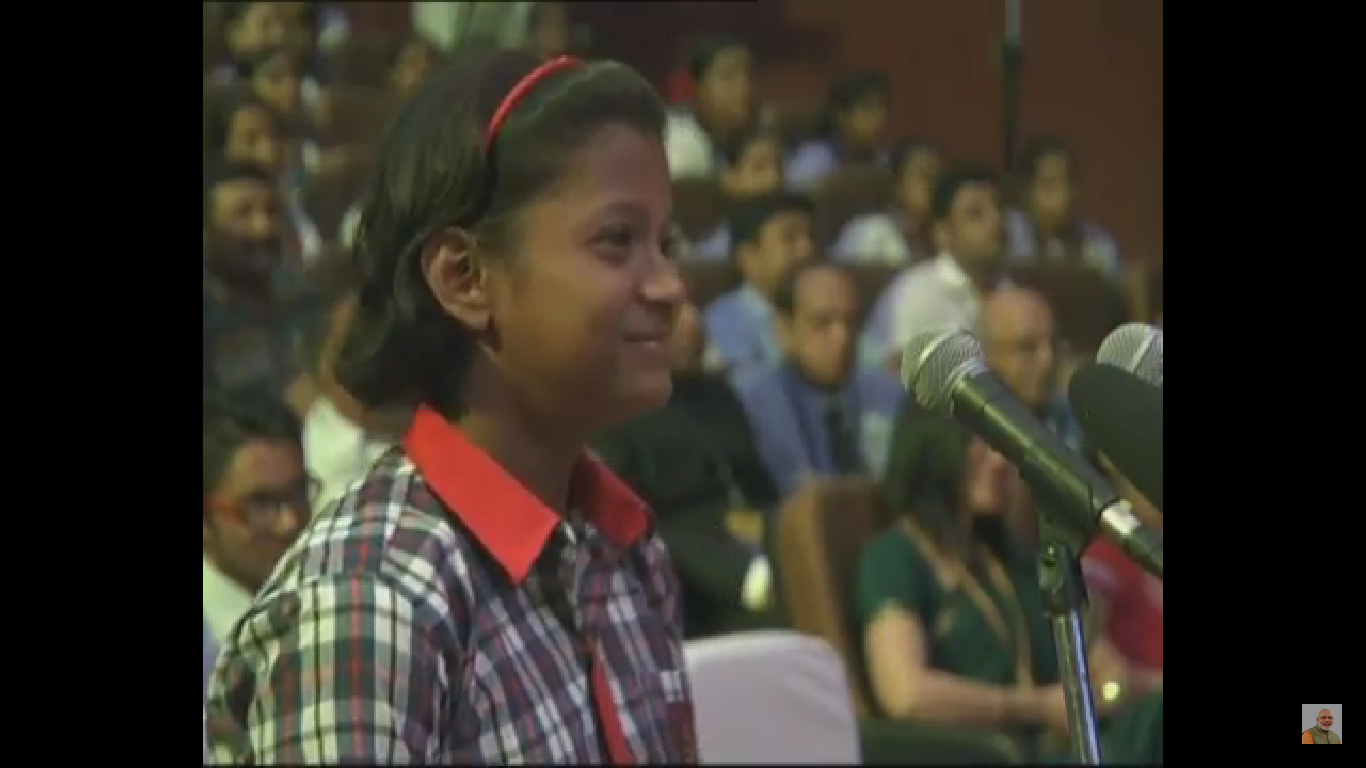 11:00: AM: PM responds, he can' call his compositions as poetry. Next question is about how he polished his oratory skills. PM's advice: be a good observer and don't be bothered if people are making fun of you when you speak. He says "Google guru" and Youtube have a lot of material to prepare students for public speaking.
11:30 AM: Parents should never impose their dreams on their children. Parents don't have time for their kids these days. They don't even know in which class their kids study.
11:50 AM: I don't have a fashion designer clarifies Narendra Modi, when asked about his dressing sense.
12:00: He thanks children and wishes them best.
Want to thank you all, and am happy children played a key role in this programme: PM @narendramodi

— PMO India (@PMOIndia) September 4, 2015