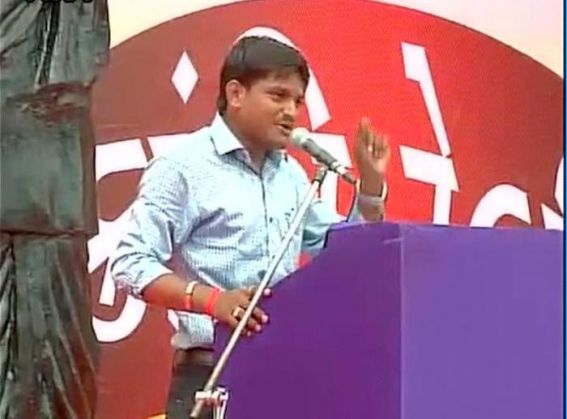 As the Patel movement under the leadership of 22-year-old Hardik Patel escalates in Gujarat, the man of the moment has decided to grace the capital.
He has further clarified that this visit is strictly to form a plan of action and not meet ministers.
"We will be holding talks with leaders of other communities demanding reservation and see how the movement could be taken forward," an aide of Hardik told PTI.
We'll update you as and when he starts talking at the press conference to be held shortly. Stay with us!
____________________________________________________________________________________
This live blog has now been closed.
1:23pm: Looks like all the excitement has moved to Swabhiman Rally in Bihar. Did Hardik Patel pick a bad day? Does this speak for the attention Patel agitation is going to get in Delhi?
1:18pm: PMO India had tweeted earlier: "The events of Gujarat have anguished the nation. People will feel shocked if this happens in land of Gandhi and Sardar Patel: PM." What about the spillover into Delhi and other locations?
1:15pm: Patel gives us more insight on his future plans. "Multiple agitations planned in Lucknow, Surat, MP and Delhi for reservation," says Patel.
1:12pm: Meanwhile, something utterly strange is happening on Twitter. Check this out. (And not a single Patel in there)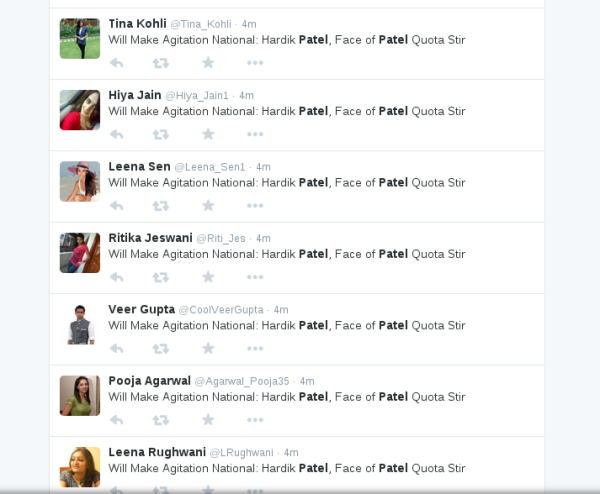 1:06pm: Patel says he'll join forces with the Gujjar community. He also expects support from 'crores of other communities' to use their 'muscle power' to fight for reservation. Will this escalate violence? Is Patel not considering the perils of 'muscle power'?
1:00pm: Speaking of Dawood and his kin, Patel brings up the Yakub Memon hanging verdict. "If for a terrorist Supreme Court can open at midnight then many things should change accordingly," he says.
12:58pm: Hardik Patel had, earlier in the day, made a direct attack on Muslims in India. He termed the like of APJ Abdul Kalam acceptable, and for the likes of Dawood Ibrahim, he had said their lives would be "made miserable". How does Patel make the distinction?
All the poor people should get reservation, he says. Are all Patels poor? "85 per cent people are poor. All of them should get reservation," he says, almost as an answer to our last question.
12:50pm: "When Congress rally happens 2000 people come, 10,000 for BJP. But for us no support", says Patel. But didn't you just call yourself apolitical, Mr Patel. Then why the comparison?
12:43pm: Hardik terms the protest in Gujarat a marathon. "If we need support from Delhi, we'll get it," says the 22-year-old.
"Because of reservation, the country has gone back sixty years. Give reservation to the people who need it." Because the Patidars are the ones in need?
12:41pm: And a lull. News channels appear to have lost Hardik Patel now. OROP, Bihar and Mukerjea is all that's on TV. What just happened?
The system is hollow and countless people are hunting for jobs, says Patel.
12:37pm: Our fight is for Patel community to be added as OBCs, says Patel. He is convinced that he's merely asking for basic rights for the community.
12:33pm: If you want to give reservation, give it to everyone, says Patel. "The day there's a proper blueprint for the basis for reservation, India will rule the world, followed by China."
12:30pm: Hardik begins to speak, reveals he wants to hold a protest at Jantar Mantar in the capital, as well as Lucknow. One wonders if that is advisable, given the violence in Gujarat that followed Patel's rally.
We want to take our movement all over the nation. Where ever the Patel community needs me, I will go, he says.
He is asked if he would like to form a party, given the wide following he has. "I am not a politician, nor do I intend to be," says Patel.