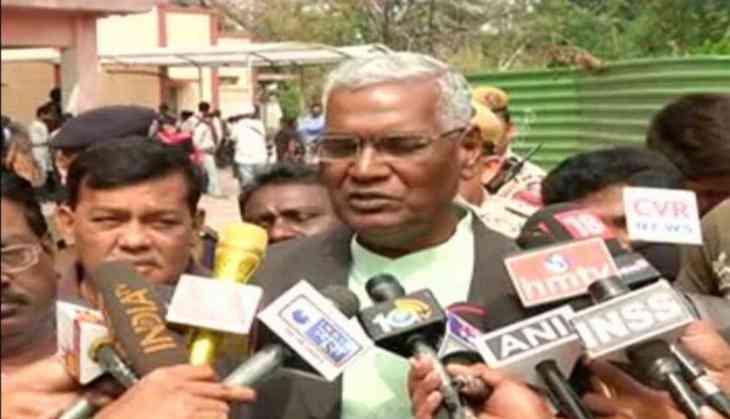 The Communist Party of India (CPI) on Tuesday demanded a probe into the suicide case of a Jawaharlal Nehru University(JNU) research scholar J. Muthukrishnan, who reportedly hanged himself using a blanket at a friend's room in the national capital.
"You do not know that there are circumstances, which lead these students to take such extreme steps. In JNU, there is some admission issue that I have raised it in Parliament also. Students have apprehensions that the admission policy that prevents the entry of SC, ST students, OBCs and also minorities. In this particular case, we need to know what exactly was the cause, which led him to take such an extreme step. We demand a probe into this matter and this is a genuine demand," CPI leader D. Raja told ANI.
Expressing his condolences, Raja said, "He is from Dalit community. First time students from SC, ST reaching to the level university joining M. Phil and doing Ph.D."
Raja was also skeptical about the post-mortem conducted by the team of doctors.
J. Muthukrishnan allegedly committed suicide in the Munirka Vihar area on late Monday evening here.
An alumnus of the University of Hyderabad, the 27-year-old Dalit was found hanging from the ceiling at his friend's residence.
According to the Delhi Police, Muthukrishnan Jeevanantham was depressed over personal issues, though no suicide note was found near his body. There was no evidence that he killed himself due to any issues at the university.
Reportedly, Jeevanantham had come to his friends' house to have food. He later said that he wanted to sleep and locked himself inside a room.
The PhD student, however, in his Facebook post on March 10 mentioned about discrimination against Dalits.
"There is no Equality in M.Phil/PhD Admission, there is no equality in Viva-voce, there is only denial of equality. When equality is denied everything is denied," the post said.
Jeevanantham was active in the 'Justice for Rohit Vemula' movement last year and was a part of the Ambedkar Students' Association (ASA) at the University of Hyderabad.
PhD student Rohith Vemula had killed himself at the University of Hyderabad after alleged caste-based discrimination, inciting protests across the country.
-ANI