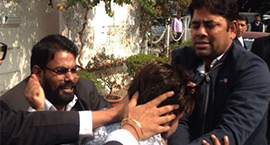 Vikram Chauhan, the lawyer who was garlanded for assaulting Kanhaiya Kumar inside Patiala House Court complex, was arrested on Wednesday, 24 February for allegedly inciting violence.
However, soon after Sharma was released on bail.Chauhan was called for questioning by Delhi Police last Thursday.
Besides Kumar, he was also involved in multiple other incidents of heckling journalists.
On his way to the police station, Chauhan said that he is innocent and behaved like a true Indian.
"There is absolutely no pressure on me. I am common man and I do not represent anyone. The media is trying to portray me as a goon. I am an Indian and if praising Mother India and saying 'Vande Matram' makes me a goon then so be it. Yes there are allegations against me but I'm sure I will be vindicated," Chauhan said.
The video tape where he is seen thrashing students was completely 'fabricated', the lawyer said.
"There are footages going around which are fabricated. When my video showed up, they believed it without blinking an eye. I have full faith in the law and order or else I would not have showed up here," Chauhan said outside the Tilak Marg Police Station here where he appeared.
Reiterating that he was innocent, he added that unlike the 'accused' in the JNU case, he had not spoken anything against the nation.
Earlier, lawyers Yashpal Singh and Om Sharma, who had joined Chauhan in the assault, presented themselves before the police.
A group of lawyers led by Chauhan had thrashed journalists and JNU students and teachers on 15 February and repeated their act on 17 February against Kanhaiya and some journalists in defiance of the Supreme Court's instructions.