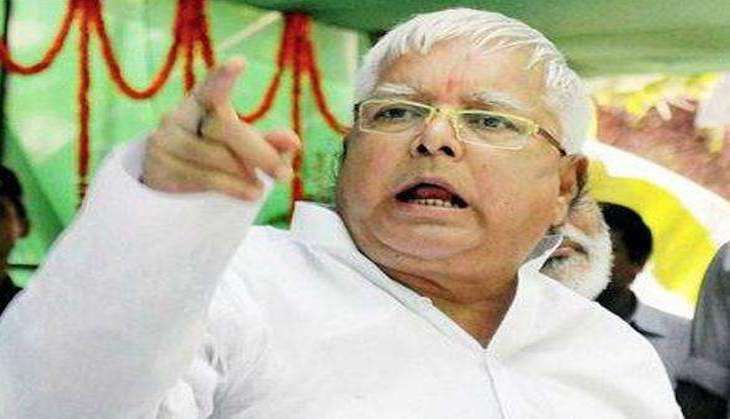 His state is literally drowning as a devastating flood-type situation is threatening to submerge it. Around 127 lives have been claimed till now and the rest of the population is facing severe trauma. And this is the time when former Bihar Chief Minister Lalu Prasad Yadav chooses to say that the tragedy is fortunate as the holy river Ganga has come to people's doorstep. During a visit to flood-affected Maner, on the outskirts of Patna, he said that people are lucky this is happening to them.
He said, "It's fortunate for you (victims) that the Ganga has reached your homes. It does not always happen. In most cases you go to it."
This, at a time when the swollen River Ganga is causing a grim flood-like situation in as many as 24 districts of the state and around 29.71 lakh people have been affected by the tragedy.
This is not for the first time Lalu Prasad Yadav's statements have hit a nerve. The RJD supremo is known to be rather cavalier with his comments.
Here are earlier instances when the RJD supremo has shot his mouth off:
- "A man as fat as Amit Shah shouldn't have entered the lift. Lifts in Bihar are small and not made to carry such fat people."
In 2015, Shah along with three other BJP leaders got trapped inside a lift of the state guest house in Patna. They had to spent 40 minutes in the left which stopped working.
- "Modi is a 'brahm pisach' (dangerous ghost) and he needs to be chased away with black magic. Amit Shah is a man eater."
Ahead of state Assembly elections in 2015, Lalu Prasad launched attack on Bharatiya Janata Party as the campaign for the first phase of elections was coming to an end.
- "Is Kejriwal a heroine that I will forcibly hug him?"
Lalu Prasad was seen embracing and hugging Delhi Chief Minister Arvind Kejriwal at Nitish Kumar's oath taking ceremony in 2015. Kejriwal shrugged off the controversy saying it was "Lalu ji" who pulled him.
- "I will make Bihar's roads as smooth as Hema Malini's cheeks."
Reportedly, Lalu Prasad Yadav made this statement when the actress-turned-politician Hema allegedly criticised the condition of Bihar roads.
- "Jab tak samose mei rahega aalu, Bihar mei rahega Lalu."
This became an epic one-liner from the RJD chief ahead of 2015 Assembly elections.