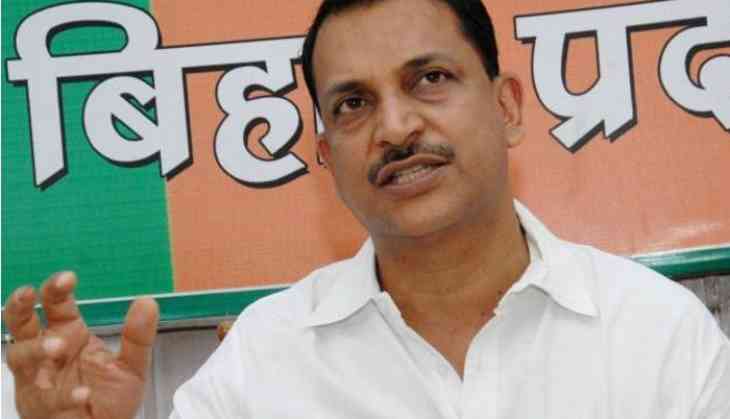 Union Minister of State Skill Development and Entrepreneurship (Independent Charge) Rajiv Pratap Rudy on Friday said Rashtriya Janta Dal (RJD) Chief Lalu Prasad Yadav is a well-known corrupt and not above the law.
Rudy's comments came after the Central Bureau of Investigation (CBI) filed a corruption case against Lalu and his son Tejashwi Yadav, who is a minister in Bihar, and raided the Yadavs' home in Patna and at other properties belonging to them. Lalu has termed the CBI case as a political witch-hunt.
Rudy refuted Lalu's charge and said the RJD chief is well-known corrupt and just being the supremo of a political party doesn't put him above the law.
'It is well-known fact that Lalu has been convicted in Rs 1000 crore fodder scam and served jail term. Therefore, he can't fight elections. The case is yet not finished and the Supreme Court has ordered to complete the probe in all the five cases in the scam within eight months," Rudy told ANI.
He added that the action against Lalu and his family members is as per law.
"Recently, it has been revealed that Lalu and his family members have illegally acquired property worth crores through the shell companies. The Central Bureau of Investigation and the Enforcement Directorate ( ED) have probed the allegations and hence have taken action," Rudy said.
The Union Minister, who also hails from Bihar, further asserted that "the laws are enacted to take action against criminals and if Lalu Yadav thinks that he is a big leader and makes Chief Ministers in Bihar then he must realise that he is not above the law".
When asked about Bihar Chief Minister Nitish Kumar's mum over the allegations of corruption against Lalu, Rudy said the Bihar Chief Minister is silent just only to remain in power.
"Nitish Kumar doesn't want to acknowledge or speak about the crimes of Lalu just for the sake of being in power. Nitish may have been holding the post of Chief Minister but actually it is Lalu who is running the government. I don't think that Nitish would ever muster courage to speak against Lalu's corruption while he is Chief Minister with Lalu's support," Rudy said.
The RJD is a coalition partner in Bihar's Nitish government.
The CBI has alleged that when Lalu was Railways Minister in 2008 then he got a two acre plot in Patna as a favour from an entrepreneur Harsh Kocchar, whom Lalu helped in getting 15-year-lease to run two Railways' hotels in Puri and Ranchi.
Currently, the Yadavs are building a mall on that two acre land. Kocchar allegedly sold land to a company owned by wife of a RJD MP and then the land was transferred in the name of Lalu's wife Rabri Devi and son Tejasvi.
The CBI case has brought a bunch of new concerns for the Yadavs who have been facing Income Tax probe for allegedly becoming owner of property worth Rs. 1000 crore via shell companies.
Bihar's senior Bharatiya Janta Party (BJP) leader Sushil Kumar Modi has alleged that Lalu family has become owner of over 125 properties in last 12 years.
It is Sushil Modi only who, from last three months, has been making series of revelations about the alleged illegal empire of the Yadavs.
-ANI