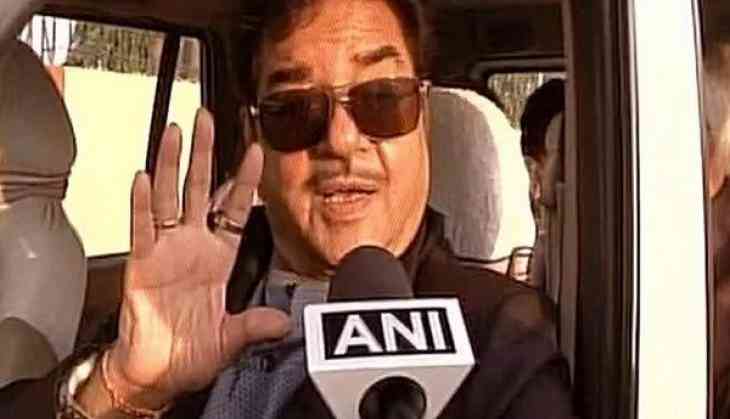 In wake of the ongoing political conflict between Bihar Chief Minister (CM) Nitish Kumar and Rashtriya Janata Dal (RJD) chief Lalu Prasad Yadav over the upcoming presidential polls, Member of Parliament (MP) Shatrugan Sinha urged both leaders to resolve their conflict for the benefit of Bihar.
"Both of them are the products of Jayaprakash Narayan, and they have their respective arguments. It would be good for Bihar if the differences between the two are resolved", Sinha told ANI.
Sinha suggested them to forget the argument and not indulge in a political dispute.
Sinha said that the conflict was an internal matter and it would be inappropriate if he commented deeply on it.
Commenting upon the opposition's presidential candidiate Meira Kumar, Sinha said that she is not just the daughter of the great Jagjivan Ram, but also has her own individuality.
Lauding her political achievements he said, "She has fared well in Delhi, Bihar and the foreign services. She has her own individuality. She is truly the 'daughter' of Bihar from all the aspects."
Earlier on Friday, Bihar CM said 'Bihar ki beti' Meira Kumar has been nominated as the Presidential candidate by the opposition only to lose.
"I have a lot of respect for Meira Kumar, but 'Bihar ki beti' has been nominated only to lose," Nitish told the media.
Commenting on Nitish's statement, the RJD chief said, "I don't know why Nitish Kumar took this decision. I will tell him that he has made a mistake and would appeal him to rethink on his decision to support Kovind."
Reacting to Union Information and Broadcasting Minister Venkaiah Naidu's statement on the nation losing the sense of its national language, Sinha said that Naidu is right to a certain extent.
"It's his opinion. In a democracy, everyone is entitled to their own opinions. I don't fully agree to his statement. However, he is right to a certain extent", Sinha said.
Asserting that the Indian mindsets have been greatly influenced by the English culture, Sinha said, "Our mindsets have indeed been affected by the English culture, but English is imperative. A great man once said that regional language is for values, national language is for relations, and English language is for business."
The Patna MP said that Bhojpuri has not been given the recognition it deserves.
"Crores of people speak in Bhojpuri, yet it has not been accepted", Sinha said.
Earlier in the day, Naidu said Hindi is the national language of India and it is impossible to progress without the language.
"Hindi is our national language and it is impossible for India to progress without Hindi. It is unfortunate that everyone is after English medium; I am against Britishers but not their language. We should learn all language, but by learning English our mindset is also changing, this is wrong , this is against the interest of the nation ," Naidu said.
Shatrugan Sinha expressed deep grief over the lynching of police official in Kashmir and appealed for a resolution to the present disturbance in Kashmir.
"Our citizens are being tortured. Our officials are being killed. It's high time that a resolution to this conflict is carried out", Sinha said.
-ANI